On a Tuesday at SunCommon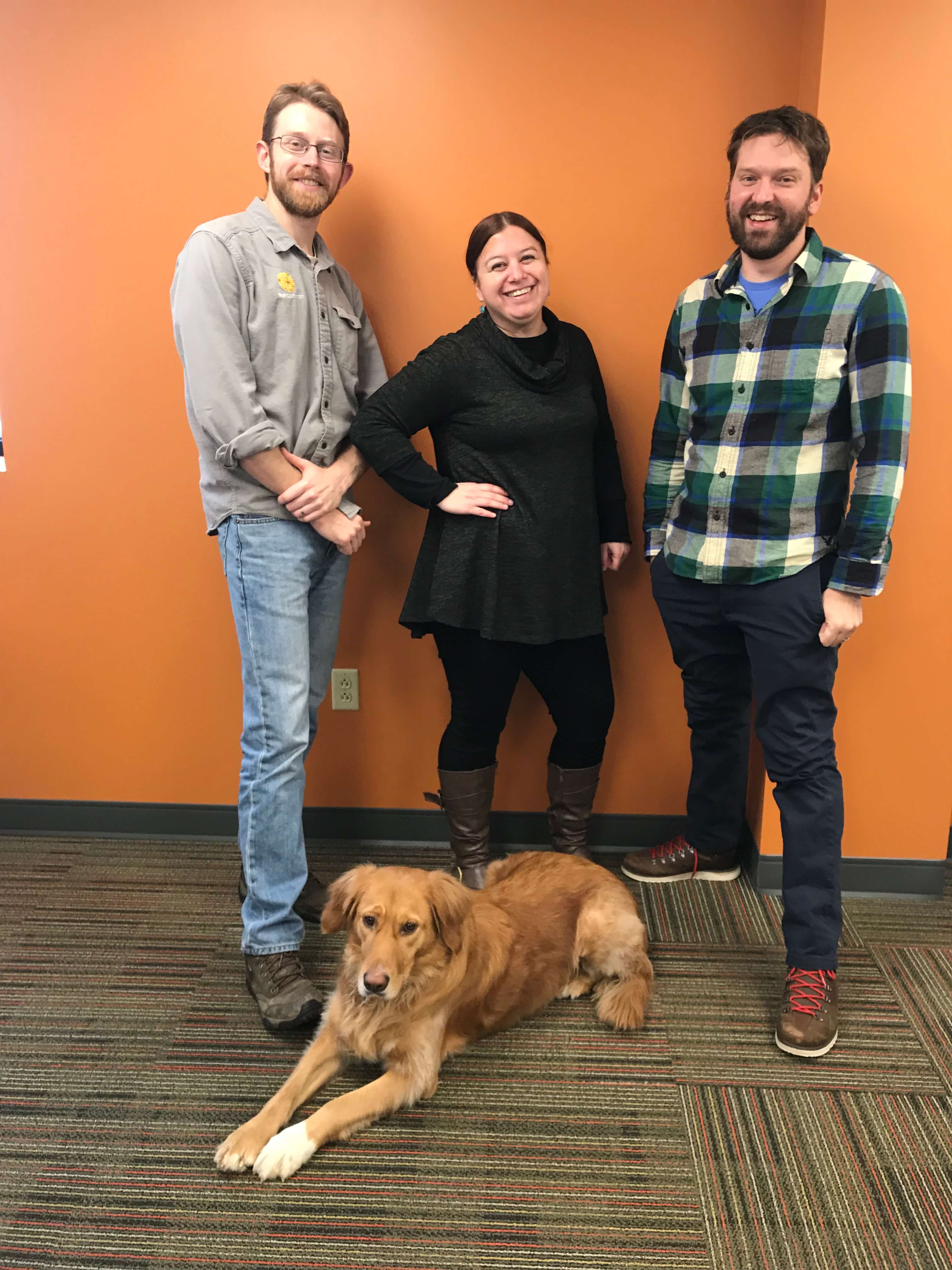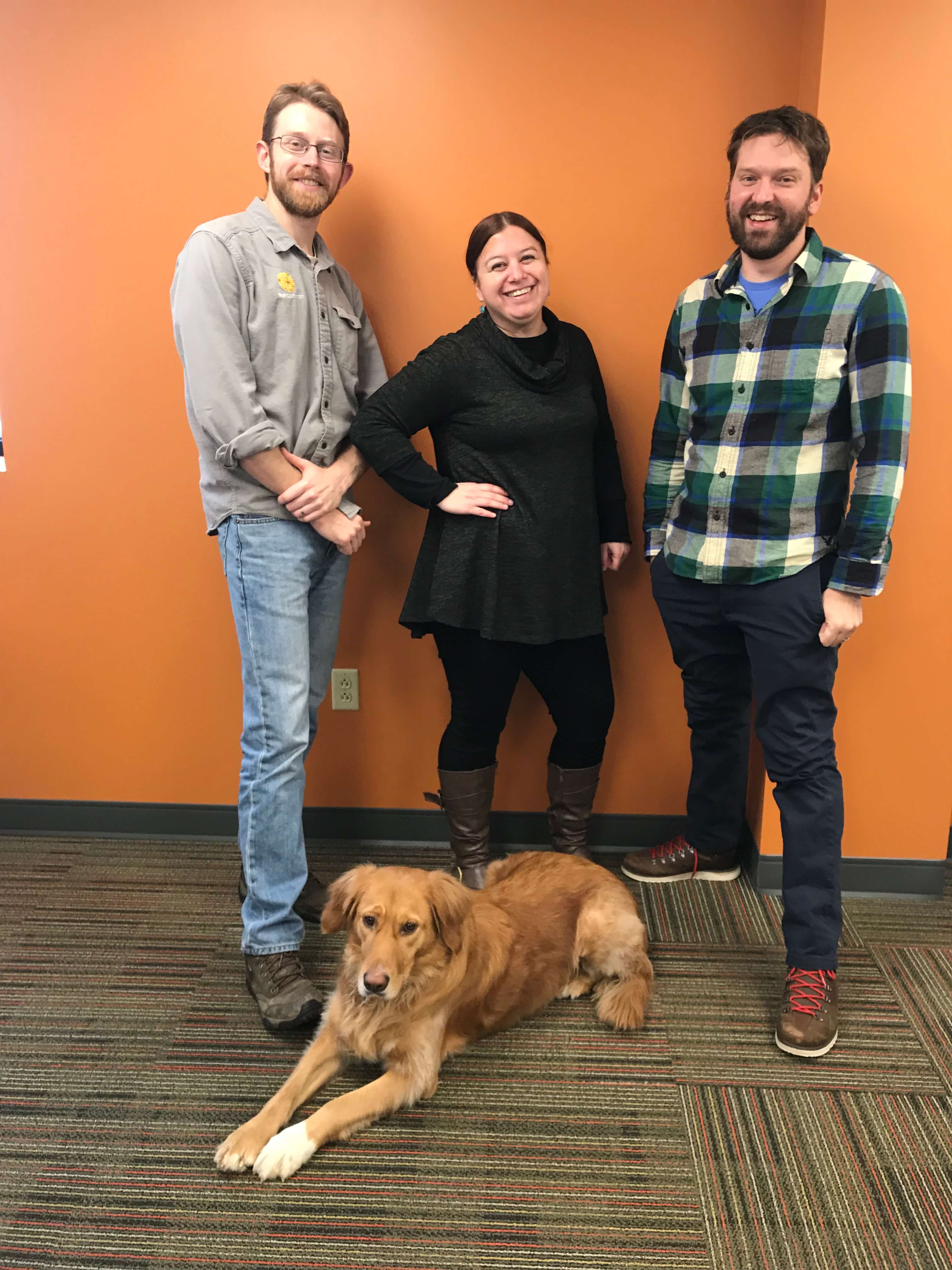 Where are you originally from? How long have you been in the Rochester area?
Meaghann Schulte, Director of PR/Marketing: I'm from Allentown, Pennsylvania. After I graduated college, I worked in college athletics for awhile doing public relations. My brother Kevin was running Sustainable Energy Developments (SED, now known as SunCommon), and they had just installed the first wind turbine at a ski resort in the world. They needed some help handling PR, so I took some time off work and helped him with that. I ended up deciding I liked the challenge of pushing the SED story, after the press in Massachusetts, where the turbine was located, died down. I ended up quitting leaving college athletics and moving to Rochester to work for SED, and I've been here ever since!
Matt Vanderbrook, Senior Project Developer: I grew up south of Rochester, in Livonia, near Conesus Lake. I went to school at UVM. I lived in Burlington and in Europe briefly, and while my time in both were rewarding, I found a new appreciation for Rochester.
Luke Spencer, Commercial Design Manager: I grew up in the Finger Lakes, south of Canandaigua. I went to RIT for school and have lived in several different homes around the country, like San Francisco, New Orleans, the Catskills, Boston, Baltimore, and Little Rock. I always find my way home to Upstate New York, though.
What is your favorite part of living in Rochester?
Meaghann: The music scene--I see live music twice a week. I'm friends with a lot of local musicians around Rochester, and I like to invest in local talent, and show them support for their hard work.
Matt: There's a really interesting mentality here; people are driven, gritty, and very hardworking. It's a great city with a great community.
Luke: The people. My family is close by, and I've made a lot of great connections in the area. There's a lot going on in this little city, and it's a comfortable size. There are so many new restaurants and businesses opening all the time, too.
How would you describe SunCommon to someone who's never heard of it?
Meaghann: We are a B-corp, and we are employee-owned and operated. SunCommon wouldn't be who or what we are without the people; our culture and our people define us. The company was started by five college roommates, and they hired friends and family, then built off that with the great people coming out of Rochester's vocational and higher education institutions.
We aim to offer a solar solution for every person, and think that sustainable energy solutions are every individual's right. We're always continuing to find the next product or solution that people want. We're also the first company in Western New York to offer community solar.
How long have you been at SunCommon?
Meaghann: I've been at SunCommon for ten years now, and my main focus has been giving the company a face while educating our community.
Matt: I've been here for 11 years. I've worn many hats over the years, but right now as a Project Developer, I deal with the front end phase of projects. I help secure financing and support the Origination team, all helping to fill the pipeline.
Luke: I've been here for six years, and am now the Commercial Design Manager. I've played a few different roles, and it's actually a funny story of how I came to work at SunCommon. I was working for an eco-village in the Catskills and thought I'd become a farmer. Then SED came to our farm to install a wind turbine. After Hurricane Sandy, the SED guys came back to fix up the turbine. I helped out and we hit it off, and they later found a job for me at SED! I had actually visited the SED facility while I was in school at RIT, so it really felt like I was coming full circle.
How did SunCommon get started?
Meaghann: SunCommon was founded in 2002. The five college roommates who founded it all went to James Madison University and came out of their ISAT program. Each of them went in different directions after graduation and gained different experience. Kevin was in Texas working in wind development, Lauren was looking at wind data in Albany, and George, Ernie, and Joe were building wind projects. At a certain point, there was this collective realization and they decided, "Let's go do this." They wrote a business plan and picked the first president of the board through a mustache competition. That fun spirit has continued to be a mainstay of the culture.
I hear you rebranded recently. Where does the name SunCommon come from?
Meaghann: Our name was originally Sustainable Energy Developments (SED), because initially, the company was focused on wind energy and the founders were unsure if it would just be wind, so the name allowed flexibility. In 2010, the founders presented the board about adding solar on the commercial side. We met folks from SunCommon Vermont at a conference and really clicked. We've worked together on community solar arrays (CSAs) and have found it to be a mutually beneficial partnership. SunCommon was a much better brand for solar, so we transitioned to that new name and brand this year.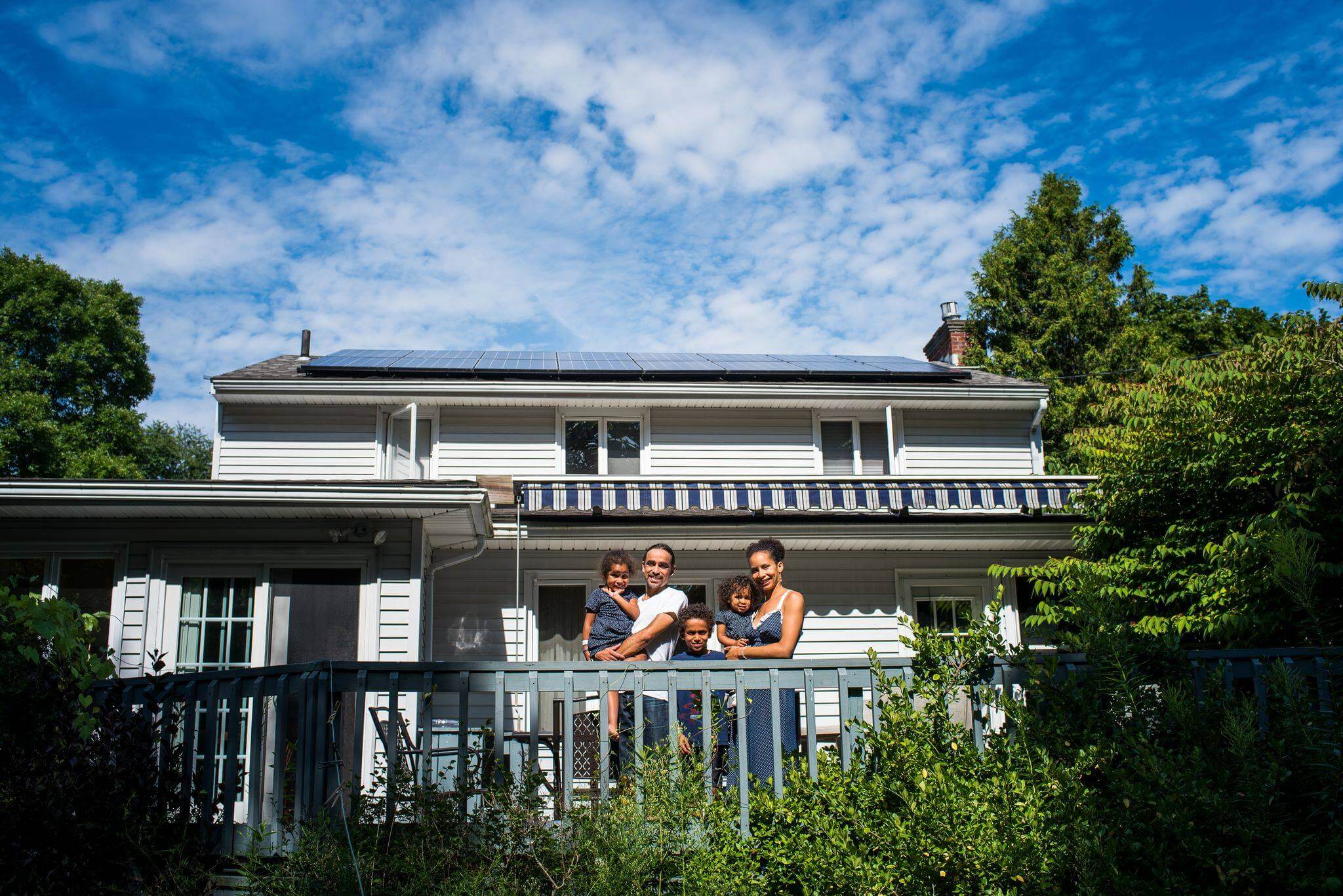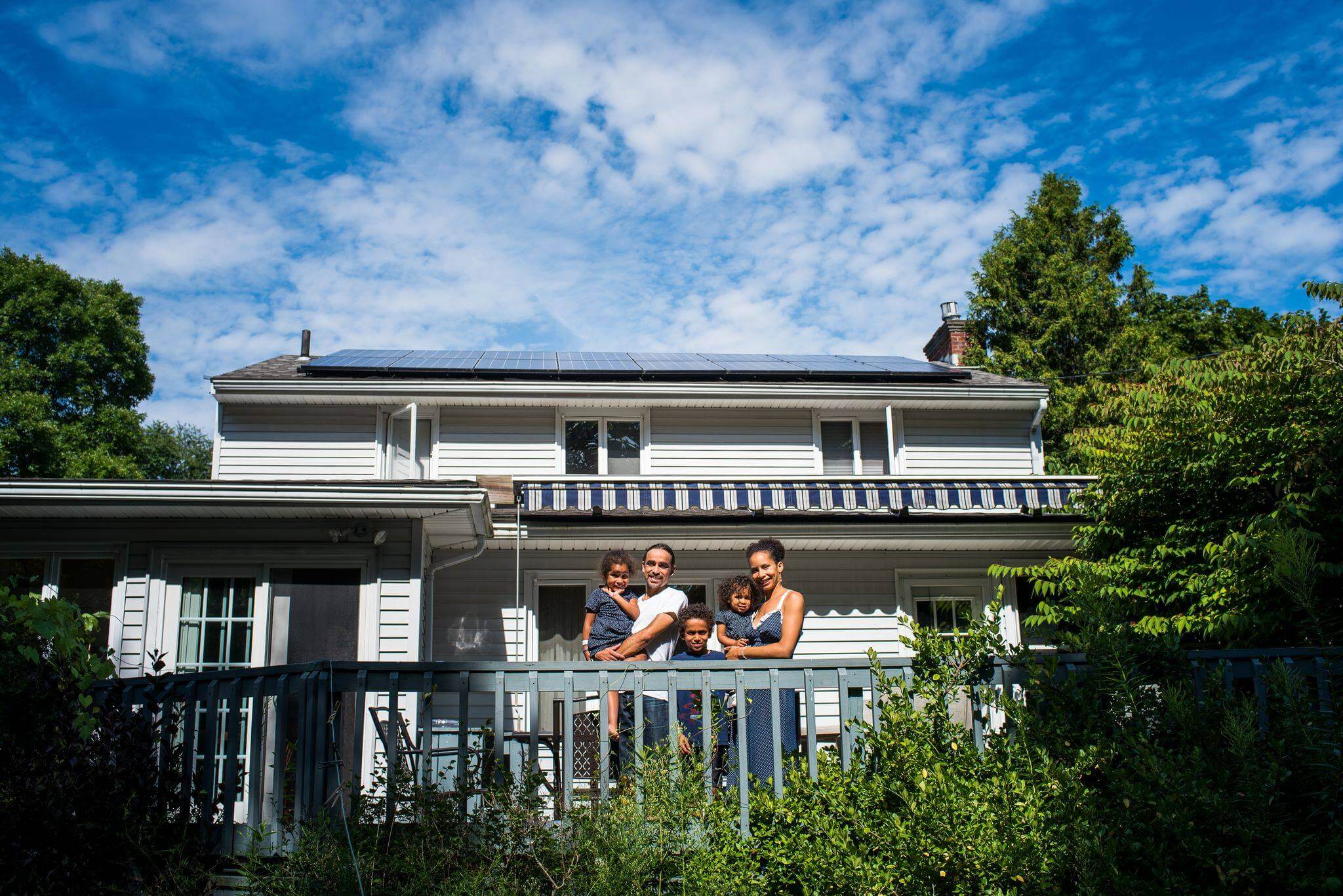 What's it like to work at SunCommon?
Meaghann: We believe that if you like what you do and who you do it with, you'll do a better job every day. I'm inspired by the people I work with and work harder because of them. We rise and fall together. It's fun as hell to work here. We celebrate the big things and the little things. It's a nice family to be a part of.
Matt: Well, I like to say I've never had a real job. I've always felt so comfortable in my work environment, and I'm rarely stressed about coming to work or dealing with coworkers. It's very enjoyable here.
Luke: After my first job out of college, I thought I would never work an office job again. I didn't like office politics and found a lot of it mundane. The people here at SunCommon are great, and it's just exciting here. It's flexible, and there's a lot going on.
I hear you do a lot of fun events. What types of community events does SunCommon do?
Meaghann: We do all kinds of stuff! The RocWorthy Earth Festival was new this year and we held it in conjunction with Abundance on Earth Day. We had over 40 vendors and our goal was that each vendor would give you a takeaway--some kind of actionable item that you can do in your own community. We had over 1,000 attendees! We also do smaller events, like Sip-N-Suns at local breweries and bars, and house parties for people who have gone solar--we bring the beer and food, you invite your friends and family to come hang out and learn about solar for a bit.
What is your favorite memory from your time working at SunCommon?
Meaghann: Our 10th anniversary party was very memorable--we had a tent outside and it was in April, and of course it snowed that day! We brought out heaters, and then our electric went out, but we fixed it ourselves and kept partying. The Top 100 banquet this year held by the Chamber of Commerce was also really rewarding.
Matt: Jiminy Peak, in Hancock, Massachusetts, nine years ago--we installed the first wind turbine on a ski resort in the world. I somehow did some of the construction work on that job. At the ribbon cutting, I just had this feeling that "I'm in it now, with this weird collection of people." The people I work with have become some of my closest friends, and I love sharing these experiences with like-minded folks.
Luke: Our second-ever solar install was supposed to be a wind turbine on Tangier Island in the Chesapeake Bay, but it actually ended up being solar on top of their municipal buildings. We were there for three weeks on this secluded island. All our solar panels were brought in on a barge, and we ate a lot of crab cakes while one guy taught us everything about installing solar. It was a really unique and memorable experience!
What's the best aspect of being part of a business like this in the Rochester area?
Meaghann: We can be a massive part of rebuilding the economy. There's so much potential right here, and it's great that local businesses want to 1) do good and 2) hire other local companies when they've decided to invest in something like solar.
Matt: The people. I really enjoy the people I'm around here. A lot of what was built came about organically; our interview process now focuses a lot on finding the right people for the roles we have open. That's been really critical.
What are some of the challenges you face?
Meaghann: Running a solar energy company in Western New York can be difficult because you have to convince everyone that yes, it does work year-round. Less than 1% of Rochester has solar installed right now, but the city is ripe for it.
Luke: A lot of the challenges come from outside forces, but we're good at adapting. We also have to deal with a lot of bureaucracy with utility companies. Just when you think you've figured out a major obstacle, something else comes up!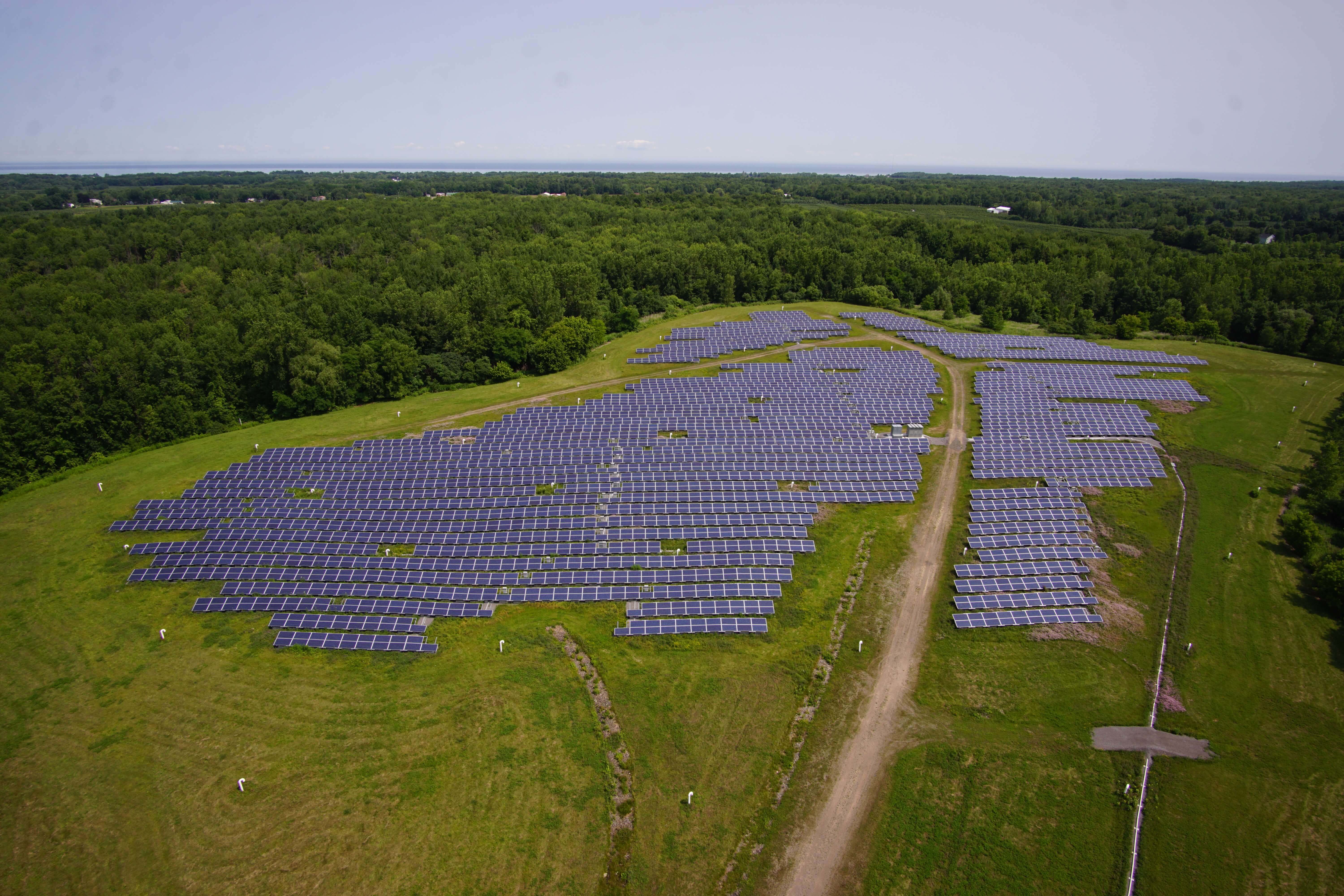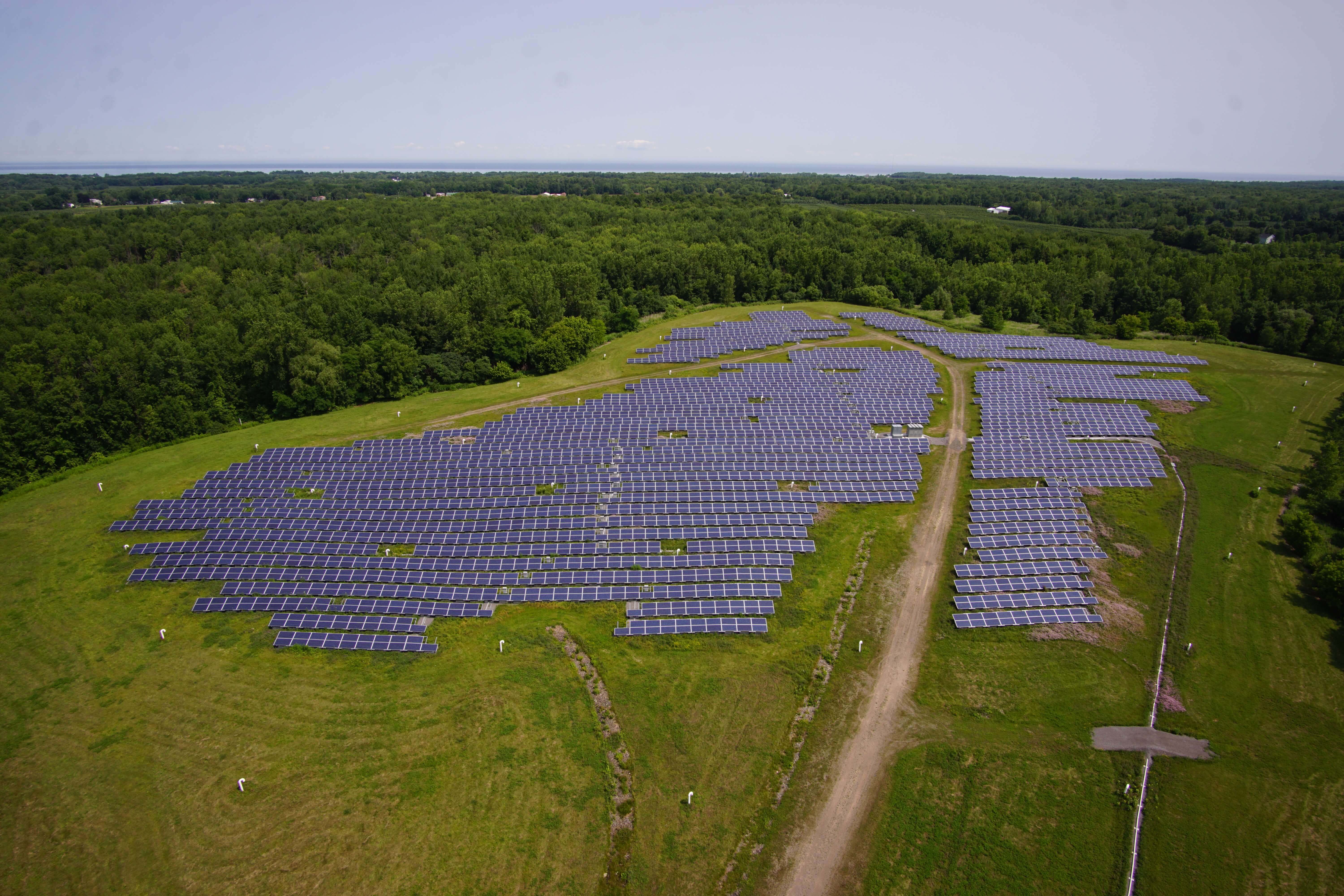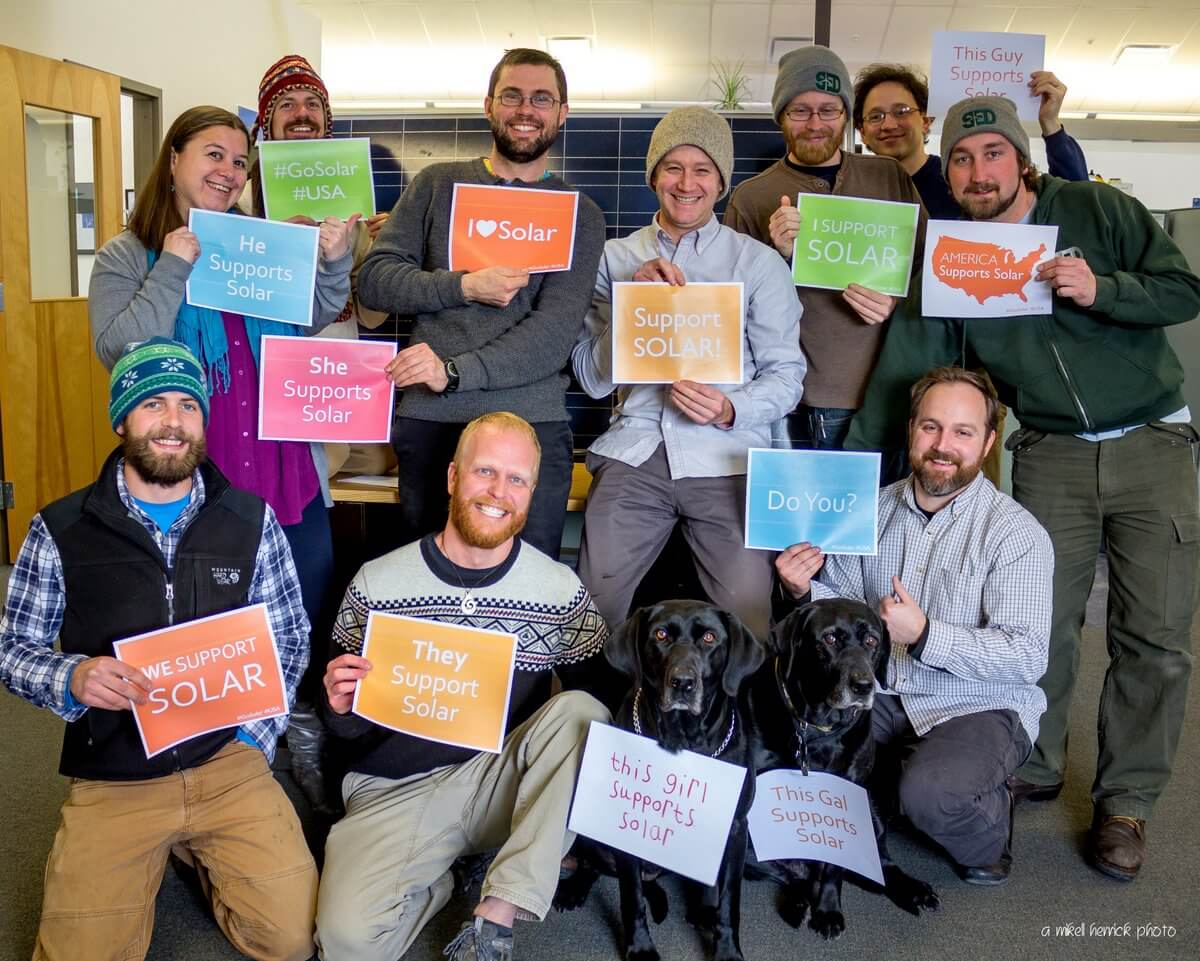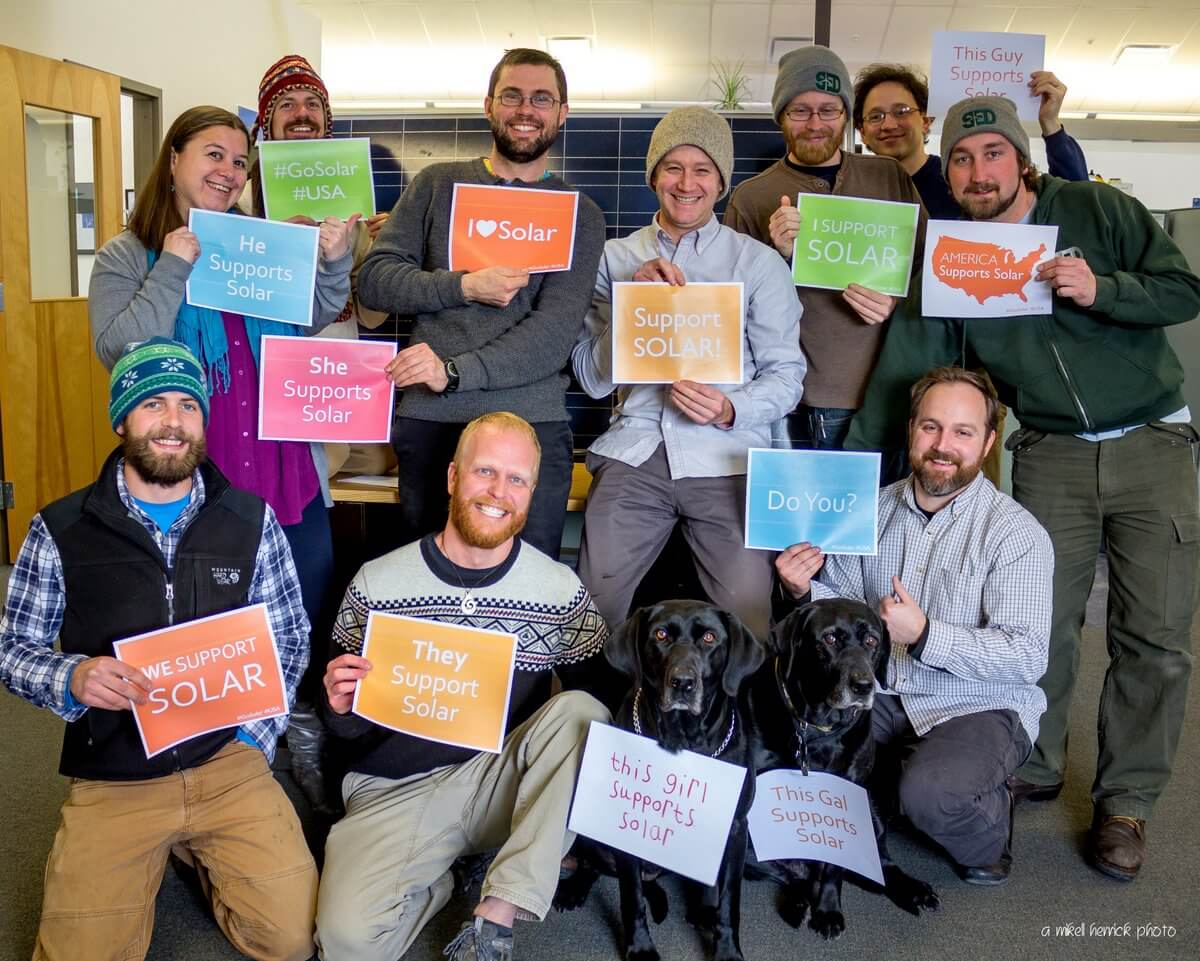 What have you learned from running a business in Rochester over the years?
Matt: We've had to be nimble and diversify often. The variety of educational backgrounds the founders had really helped us be nimble.
Luke: I've learned a lot about myself, and have developed new skillsets in the realm of wind and solar energy. Being given so many responsibilities has built up my confidence. Plus, the supportive atmosphere here helps me accomplish quite a bit.
What are your hopes for the future of SunCommon?
Meaghann: My biggest hope is that the culture remains. We also want to continue to grow--but without getting too big. We hope to continue working with like-minded people who value what they do and who they do it with. Ultimately, our goal is to find ways to help people use renewable energy to power their homes--and in so doing, locally solve a global issue. We're striving towards this goal by educating the community in an inclusive manner. We've definitely seen evidence that the community wants this, and we're going to keep working and growing together.
Matt: We have a lot of cool plans in place, and we're making inroads in the community. We're getting great press and are better represented. People are coming to know us and love us. I'd like to see our mission spread, too. I want businesses to know that you can be a B Corp and really hang your hat on it and benefit from it.
Luke: I hope we continue to grow and thrive. We are Rochester's solar installer right now, and we want to keep doing that. We want to get our panels up on every roof. We have a lot of knowledge and are doing a lot of outreach, so there's tons of potential!
SunCommon is a certified b-corporation that aims to make solar energy accessible to all Rochesterians while maintaing an awesome company culture. For more of SunCommon, check out their website or Instagram takeover.
This interview is sponsored in part by SunCommon.