Kit Kalfs & Nancy Tisch, Bet the Farm
On a Sunday in Aurora, NY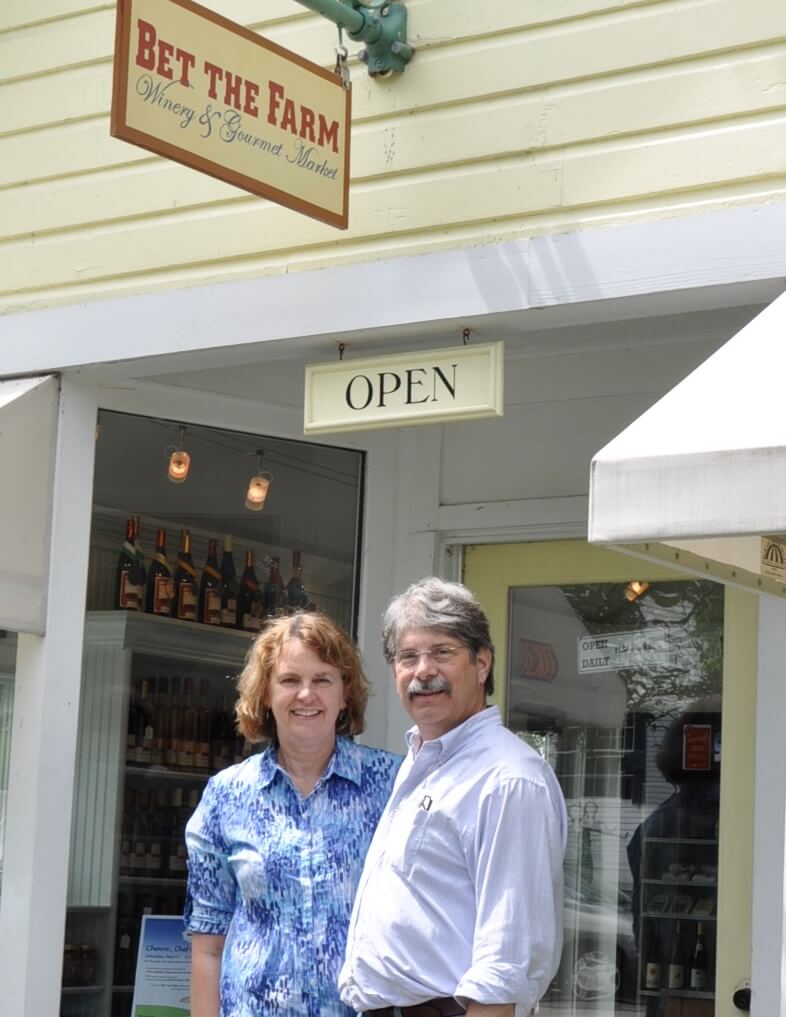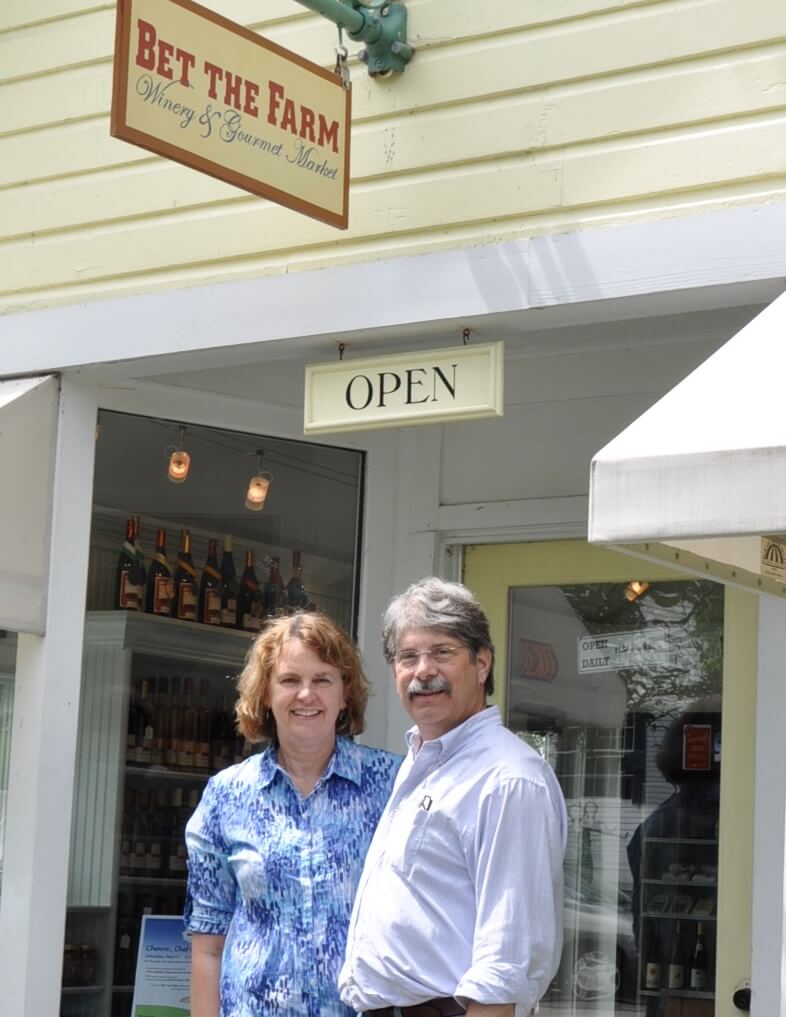 Where are you originally from? How did you wind up living in the Finger Lakes?
Nancy: I'm from Rhode Island originally. I finished up my doctoral degree there and ended up with a job at Cornell afterwards.
Kit: I'm from Ohio, and I was a tourist in the 90s in the Finger Lakes. I changed my career path to get into the wine business, so that's how I ended up living in this area.
Do you get up to Rochester often? Any particular places you like to visit while you're there?
Kit: We love visiting the East Ave area when we're in Rochester—it's beautiful to drive around and see all the old houses. We once found a martini bar in an old house in that neighborhood and it was fantastic! We also enjoy visiting the Memorial Art Gallery.
What's the most unique or interesting event you've attended in the Finger Lakes?
Nancy: The Grassroots Festival is always fun—it's a music festival in Trumansburg. Lots of people camp out, and there's all kinds of music, like zydeco, bluegrass, and more. It takes place every summer in July, and you can hear a full day of music for just $50.
Kit: We also enjoy the Finger Lakes Culinary Bounty dinner each year at Geneva on the Lake. It's a farm-to-table dinner where all the food served has to come from the Finger Lakes area.
Nancy: We love the State Fair, too! Last year we volunteered at the New York Farm Bureau table. We answered a lot of questions about pigs and learned that the largest sausage was one mile long!
Do you have any favorite or secret spots in the Finger Lakes?
So many places come to mind!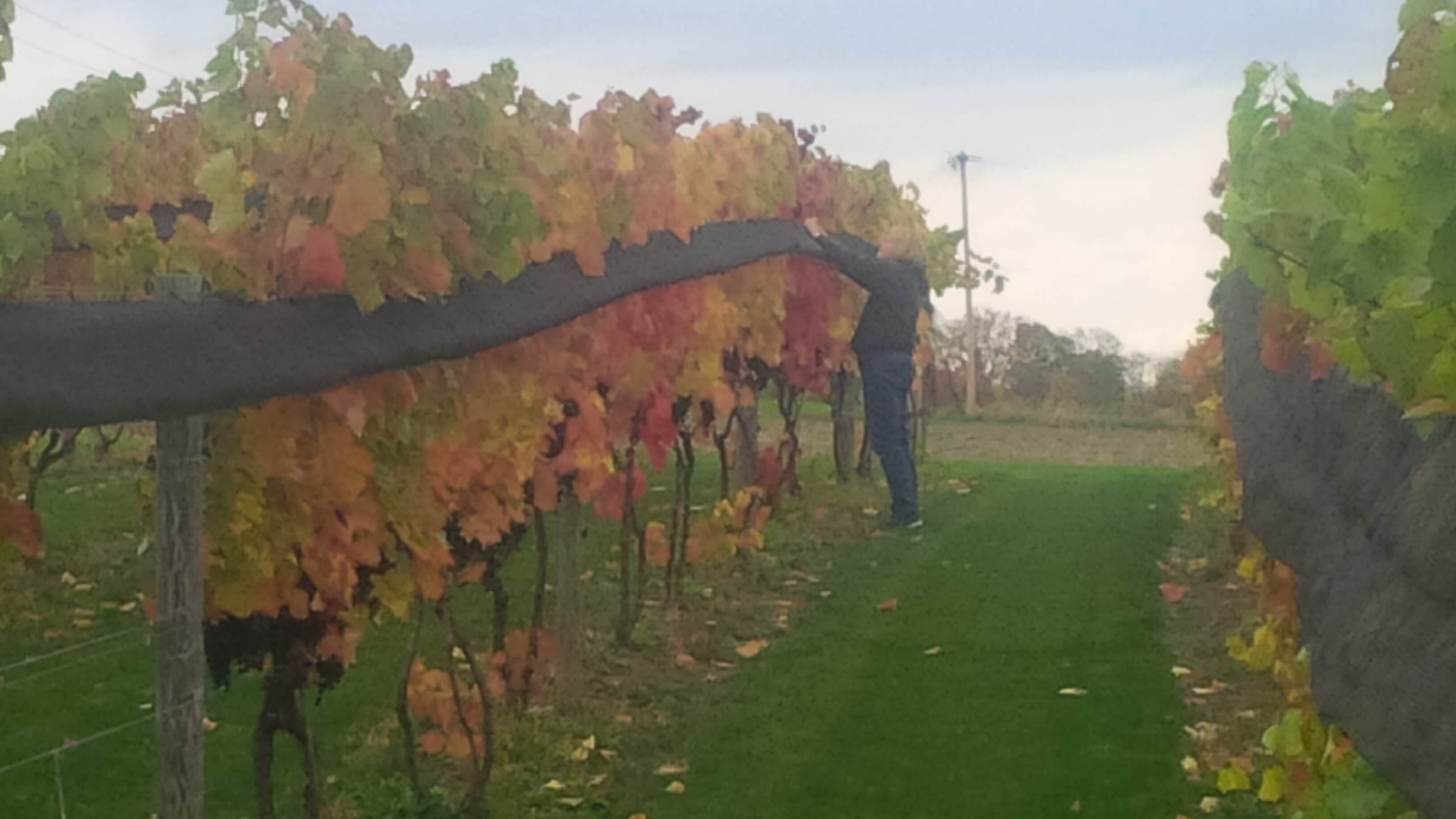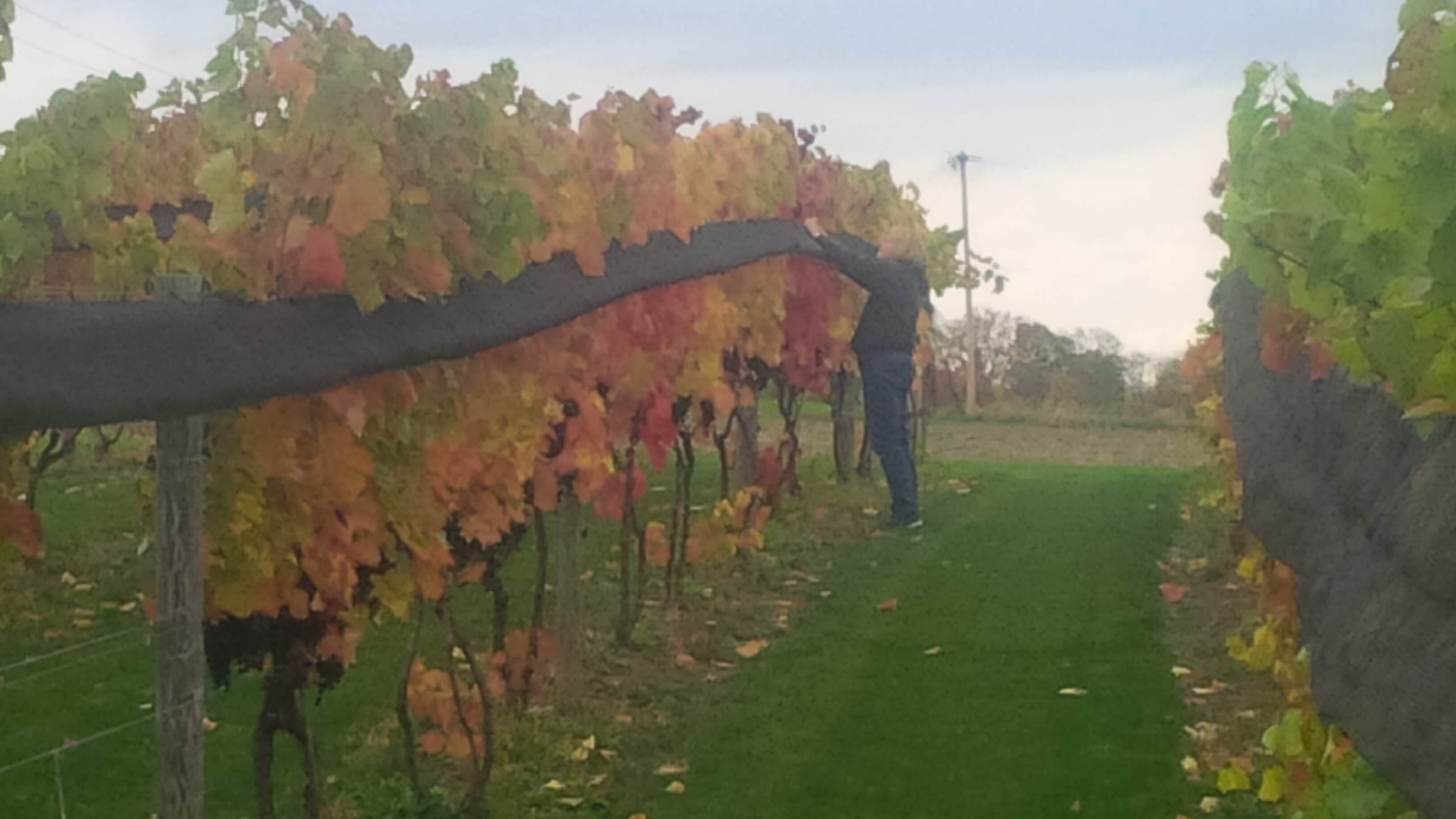 Favorite winery to visit (other than your own)?
We enjoy visiting the smaller wineries, like Sheldrake and Heart and Hands. Keuka Lake Vineyard does a great job as well. We also like Song Hill in Perinton. Song Hill is on an old horse farm and their wine is just exquisite! They offer tastings by appointment only.
What is your personal coping mechanism for cold/gray weather?
Nancy: I have a Happy Light.
Kit: Winter really only lasts four months, and then we get beautiful Upstate NY summer. Summer always comes back, so you've just got to get through the winter. And then by the time summer rolls around, you feel like you really deserve it.
What is your favorite Finger Lakes memory?
Kit: Meeting Nancy.
Nancy: Getting married right here in Aurora!
Kit: I also vividly remember our first gamay in 2008 or 2009, when we poured ourselves big glasses after the final filtration. The sun was setting and we had our first taste of it, and it was awesome. At the time, I was managing the tasting room at Sheldrake full-time and Nancy had a full-time gig as well, so we only had one day a week to work on our own wine together. This one had a nice color and tasted good!
Nancy: I remember going over to Damiani, thinking, this would be a cool place to learn to make wine. I went up to them and said, "I'm not here to buy, I want to learn to do this." I was so proud of myself for having the courage to ask, and they said yes! We made our wine there for the first five years.
What makes the Finger Lakes region unique?
Nancy: Well, there's no traffic! It's really nice. We just came back from a trip to Rhode Island, and there was tons.
Kit: I've heard the term 'micropolitan' thrown around lately, about cities the size of Syracuse, Binghamton, or Rochester, and I think that fits well. The Finger Lakes are more of a melting pot than people may think—people end up here for a lot of different reasons, and on top of that plenty of locals still live here. There's just something about the area. And it's funny- an Australian marketing firm came in to do some research on the area, and they found that the people who came for the wineries were blown away by the scenery, and the people who came for the scenery were blown away by the wine! And while wineries are the primary economic engine for the region, there's been a rise in breweries, cideries, cheesemakers, and charcutiers.
What do you think could be improved?
Kit: Better cell phone service!
Nancy: There's no internet in some of the surrounding areas of Aurora, so that could definitely stand to be improved.
Kit: Perhaps more lakefront accommodations and dining. But aside from that, life is pretty good here!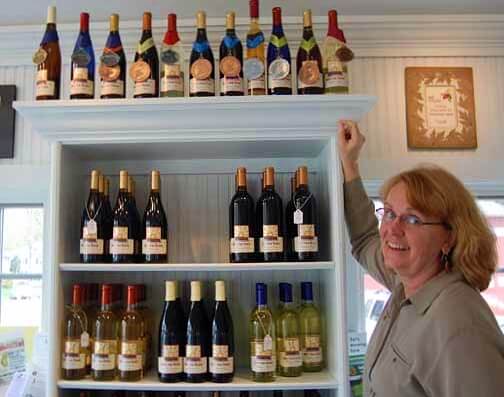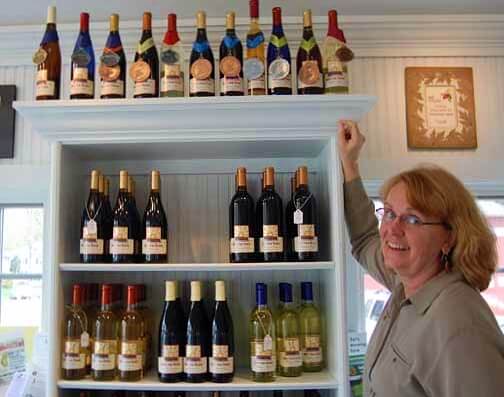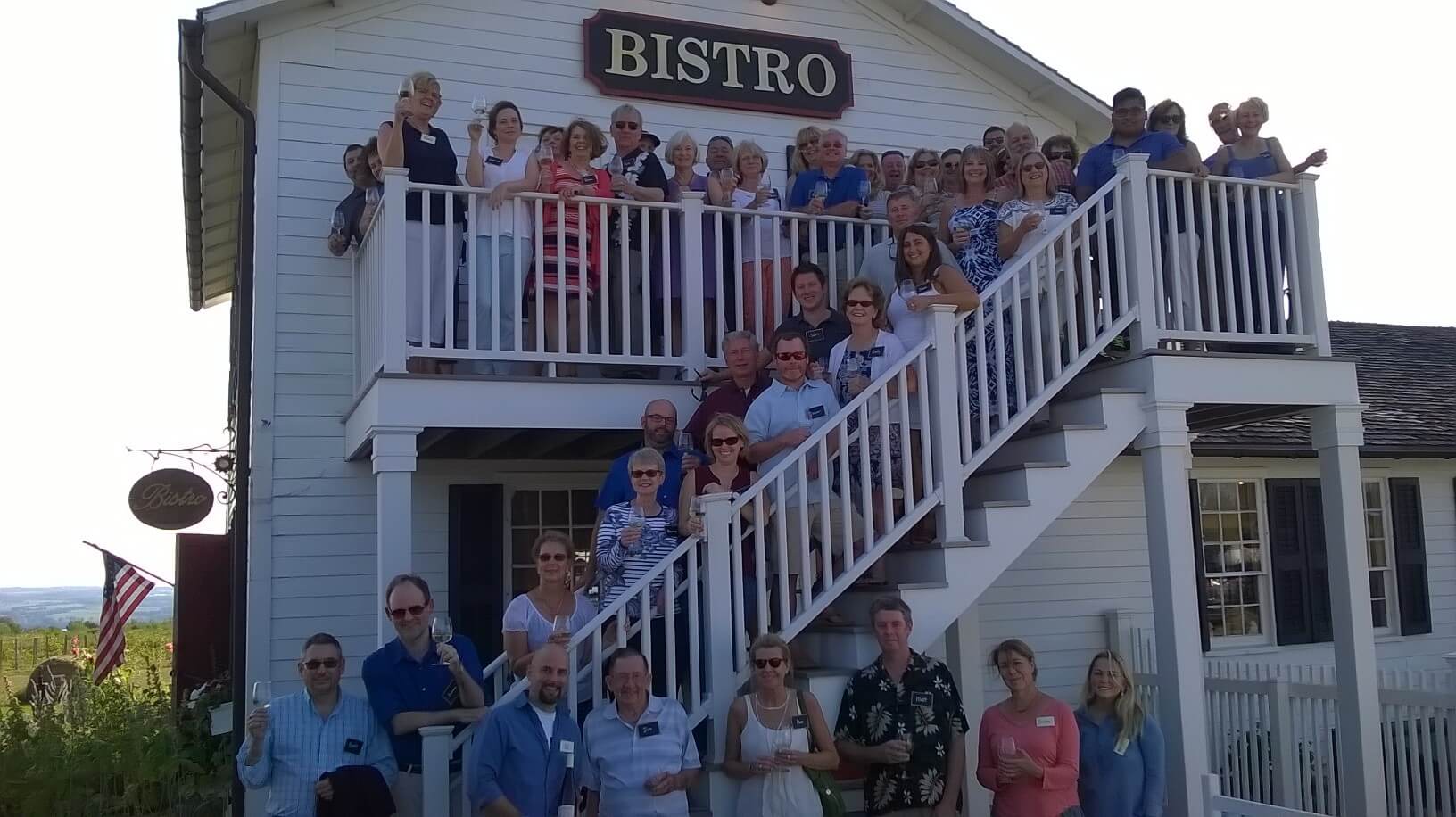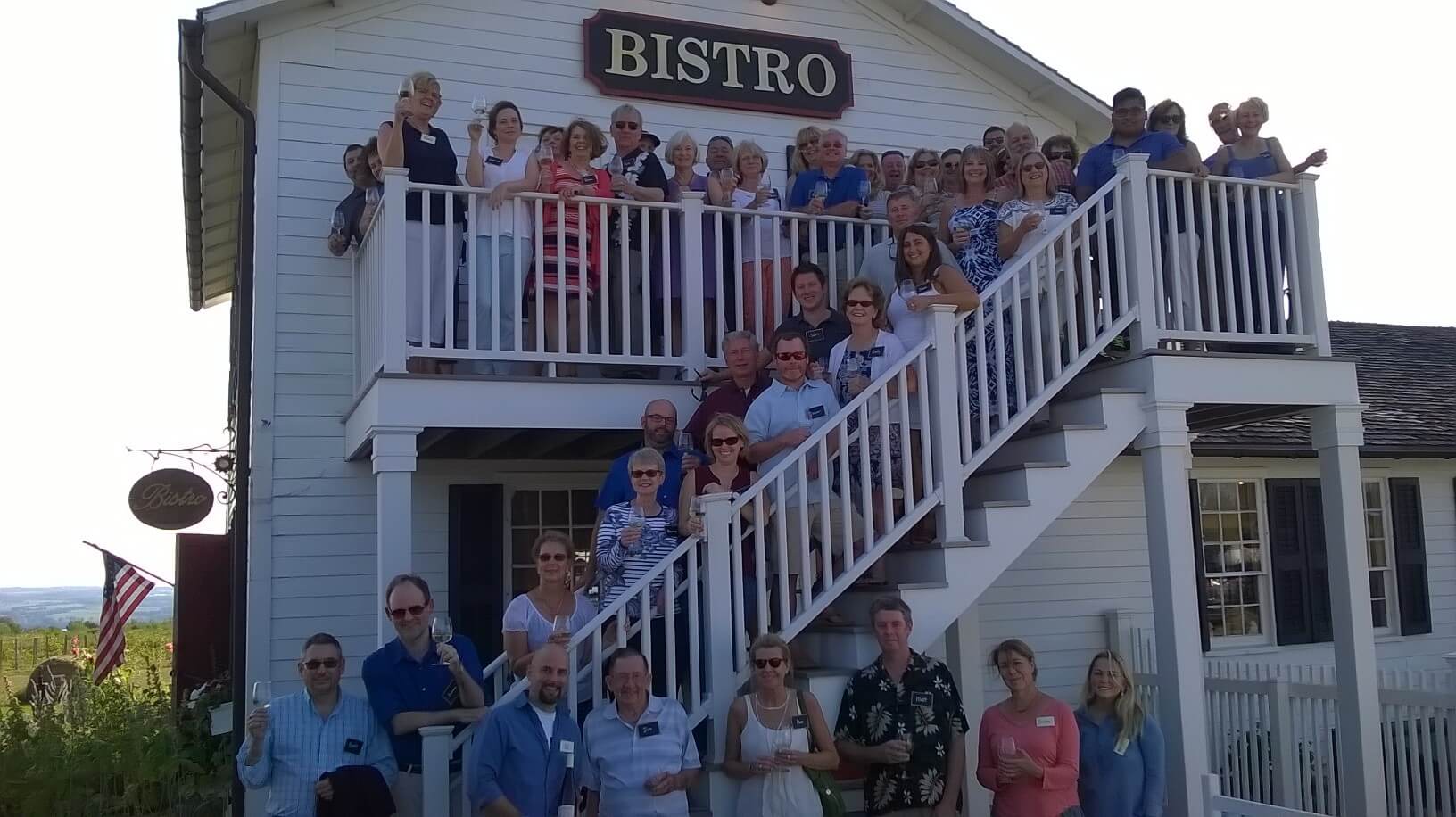 What made you decide to open up a winery?
Nancy: I wanted to own my own business for years. At the time, I was working at the Aurora Inn and I helped open up the E.B. Morgan House—I was their first innkeeper! The shop where Bet the Farm is now located was a flower shop at the time, and they closed. The folks at the Aurora Inn said, think of an idea to put in that building. So I wrote a business plan for a winery. Kit and I met in 2005, and we opened Bet the Farm in September 2006.
The name came from a phone conversation I had with Kit. I was getting nervous and said to him, "I don't know what I'm doing, I'm not sure if I can do this." And he told me, "Don't worry, I'll help you. You can bet the farm on it."
What's been the best part of running a winery?
Kit: Making good wine.
Nancy: And building a community, whether it's our repeat customers or our wine club members.
Kit: Yes, the people are great…but if we didn't have good wine, we wouldn't have the people! I'm proud of the fact that Nancy makes really good wine. We try to create the vibe of inviting people into our own kitchen—chatting about wine over the counter, sharing food pairings, and just chatting casually. We want people to feel comfortable and happy in our space.
What are some of the challenges you face?
Nancy: Well, we opened the winery right before the recession in 2008, but when we survived that, I felt like we could survive anything. The other problem we've encountered over the years has been sourcing grapes. The last couple of winters have been harsh; we want to grow our business, but it's hard to do due to lack of grapes.
Kit: We're a winery of opportunity, though, so we take advantage of what we can get!
Nancy: That's why we made our first chardonnay—there were plenty of grapes available.
Do you have any advice for people who want to get more into wine?
Nancy: Taste everything, everywhere you go.
Kit: Keep an open mind! Don't be afraid; be open. Try new things, but don't be scared to say you don't like it.
Do you have any advice for people who want to start their own business?
Kit: Grow at a comfortable pace.
Nancy: Yes, and keep your pace affordable, too. Don't take on too much debt, ever. You'll have to have some, of course, but it should be reasonable.
Can't make it out to Aurora? Bet the Farm's wines are available at Swiftwater Brewing and Pinnacle Liquor in Rochester!
Kit Kalfs and Nancy Tisch are the dynamic duo that run Bet the Farm, a winery and gourmet market located in Aurora, NY. For more of Kit and Nancy's perspectives, check out our Instagram.