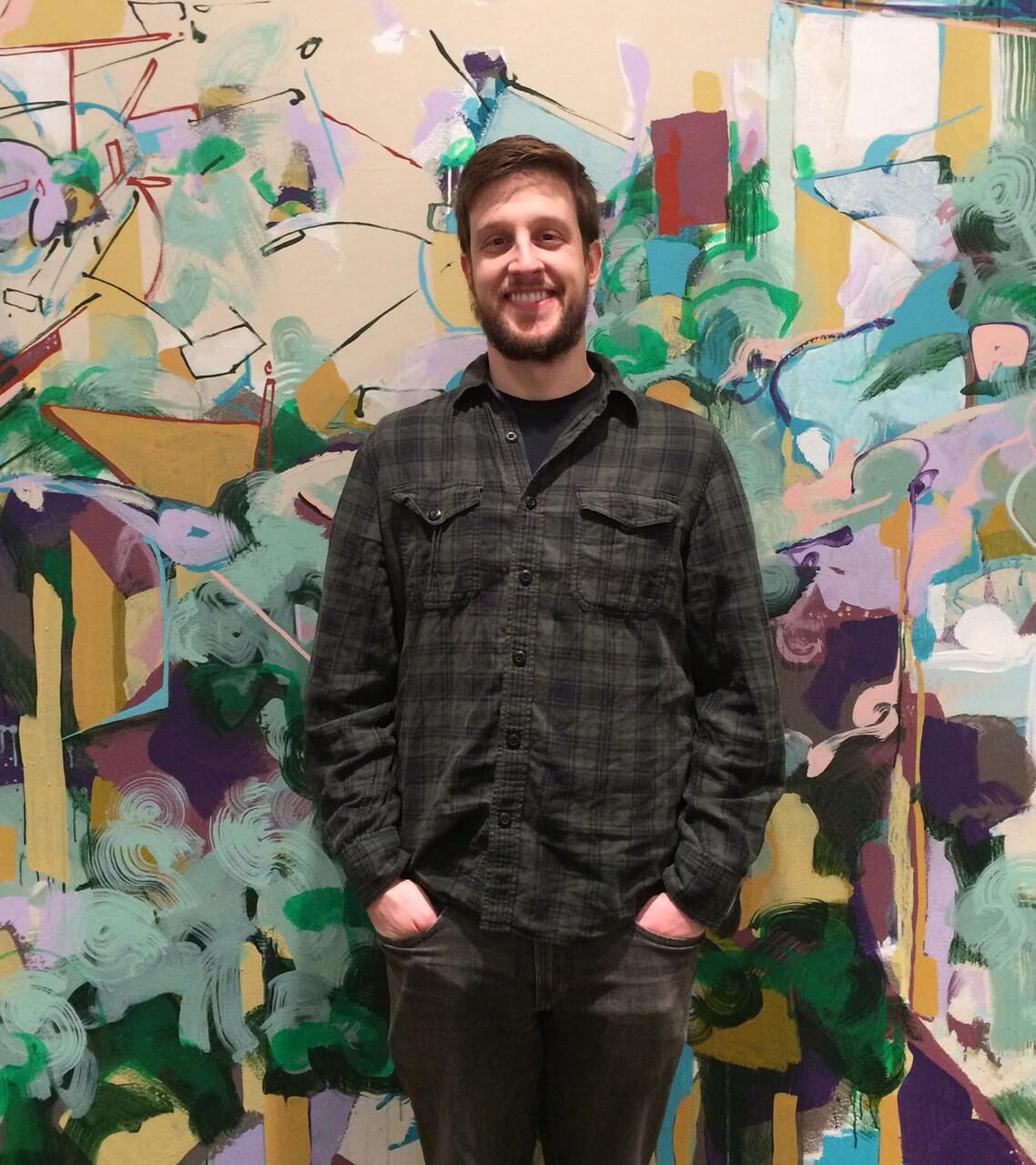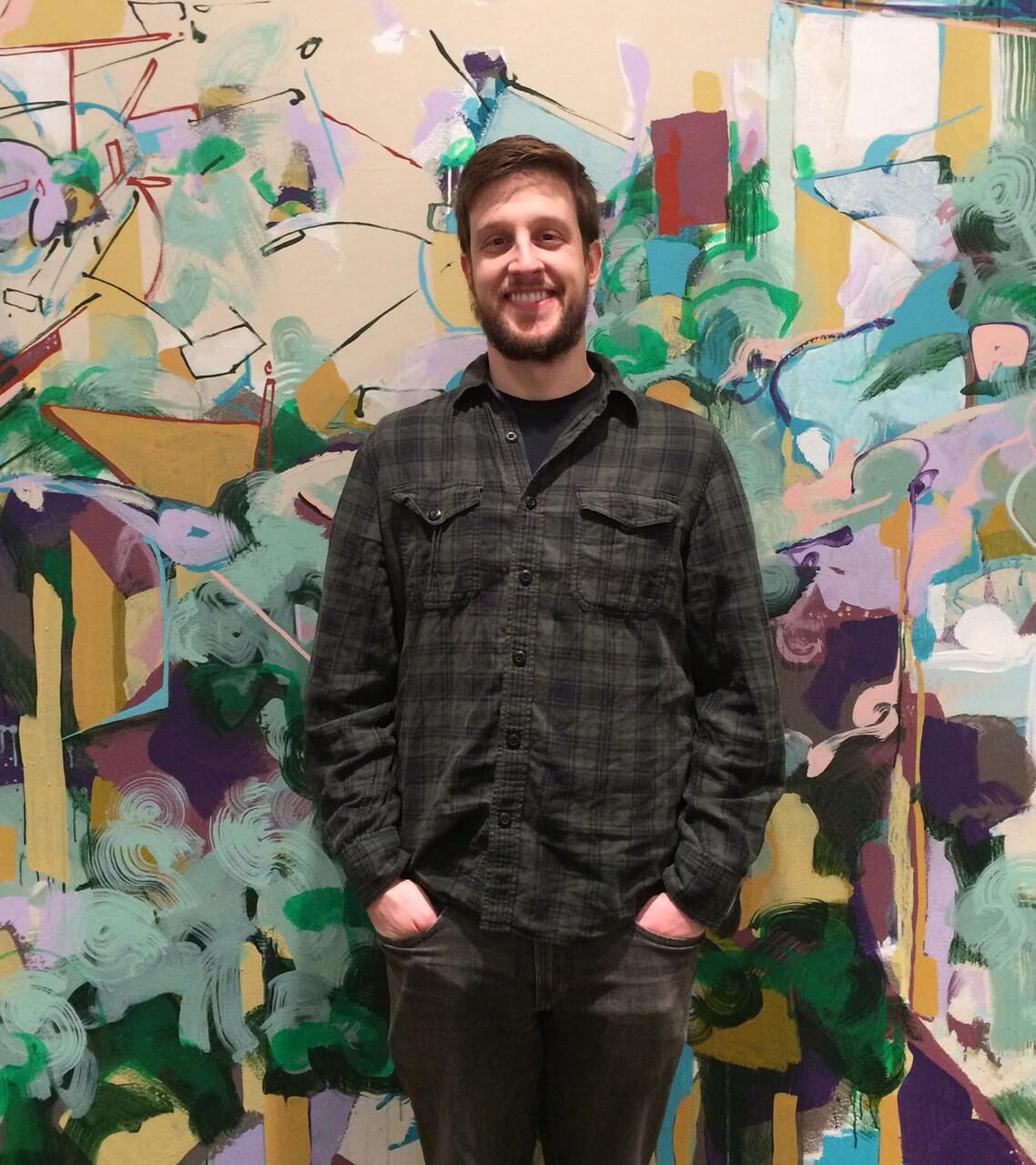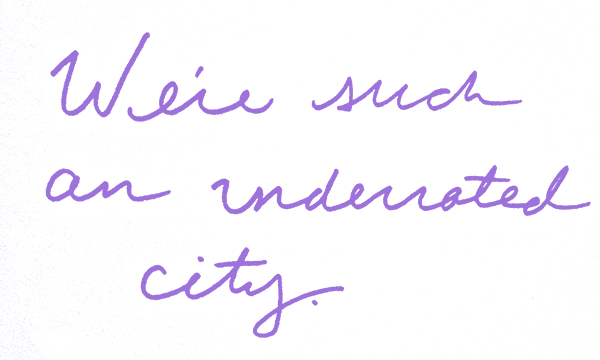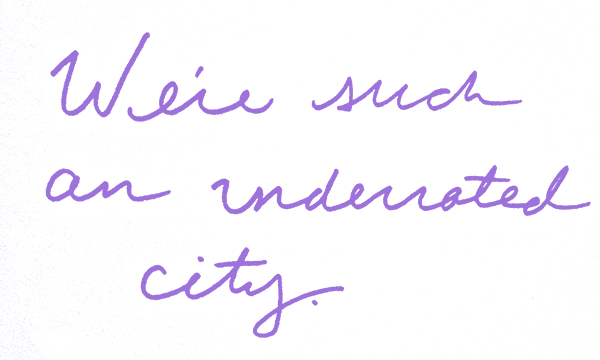 Where are you originally from?
I grew up in Livingston County, in a small town called Leicester. I went to school in York, where – if I may humblebrag – my Odyssey of the Mind were World Champions my senior year! I should also note there are now York grads at Writers & Books and the Memorial Art Gallery too, so we're basically taking over.
What brought you back to Rochester?
I worked as a newspaper reporter in Canandaigua for three years, and wanted to shake things up – try something new. I started working as a TV news producer here in Rochester, which it turns out, is a lot different than working at a paper. Ultimately, I missed writing plus going out and meeting cool, fascinating people. I freelanced for (585) and City Newspaper, and eventually I noticed there was a job opening at The Little. I've always loved The Little, along with movies (I reviewed movies for my college paper, The Cardinal Courier), so it was a perfect fit.
What is your favorite part of living in Rochester?
I love the creative energy here, especially among younger people. There's so much innovation and so many things to do! We're such an underrated city – obviously not for anyone who's reading this, but overall, Rochester is an underrated place.
The film and art scenes are great. I'm really proud of what we do at The Little. Plus we have RMSC, the MAG, the George Eastman Museum—just this abundance of arts and culture and awesomeness. I also find it really nice that we experience all four seasons here – you can complain about the snow, or you can build the best snow fort around, it's really an easy choice.
And, in addition to all that, you can also make far more of an impact in a smaller city like Rochester than you could in a larger city.
Do you have any favorite/secret spots?
Central Library in downtown Rochester is one of my favorite places to visit. I love to just wander around browsing. They have a hidden outdoor reading area that relaxing and downright zen-like. I can walk there from both my apartment and work, which is great. Did you know you can check out movies too?! I mean, if you don't catch it at the Little first.
I also love Nox—it may not be a super secret spot, but it flies under the radar a little bit. Great cocktails, a wonderful atmosphere, and that cool TARDIS light switch.
Also, I have to give Mise En Place on South Ave. a shout-out. I live in the South Wedge, and this spot has been a lifesaver for me, whether I desperately need groceries, dinner, or Boomsauce.
What's the most interesting or unique event you've ever attended in Rochester?
First Person Singular at the Brainery is very unique, and actually it's an underrated one too. The premise is simple: It's just people telling stories.
I first went when it was called Wham Bam Story Slam, and told a story about how I was almost killed by a thermos of chicken noodle soup. While I've told humorous stories there, others choose to be more personal – it's a very therapeutic way to have fun. I was pumped that I got to highlight First Person Singular in one of my City Newspaper articles too.
Do you have a favorite local nonprofit/charity you like to support?
The Little, obviously! Verona Street is another one—that's where my girlfriend and I got our cat, The Great Catsby. She's the cutest.
Describe your dream Rochester day.
My girlfriend and I have what we call "Team Awesome Day" where we try to cram as many great things as we can in one day. Basically, that's my dream day, except in my fantasy I can do way more things than what's actually possible to do in one day.
We'd start in the morning with brunch, maybe at Orbs or Frog Pond. From there, we'd head to RMSC or the MAG to check out their exhibits. Then we'd just walk around holding hands, and visit some coffee shops or the little stores in the Park Ave and NOTA neighborhoods.
We'd catch a movie at The Little in the evening, then grab drinks at the Old Toad or the Daily Refresher, or maybe sushi at Bubble Fusion. At the end of the evening, we'd stop for a nightcap at Tap and Mallet or Swillburger! It's really nice to live these kinds of dream days on a weekday if you can, since everything's less crowded.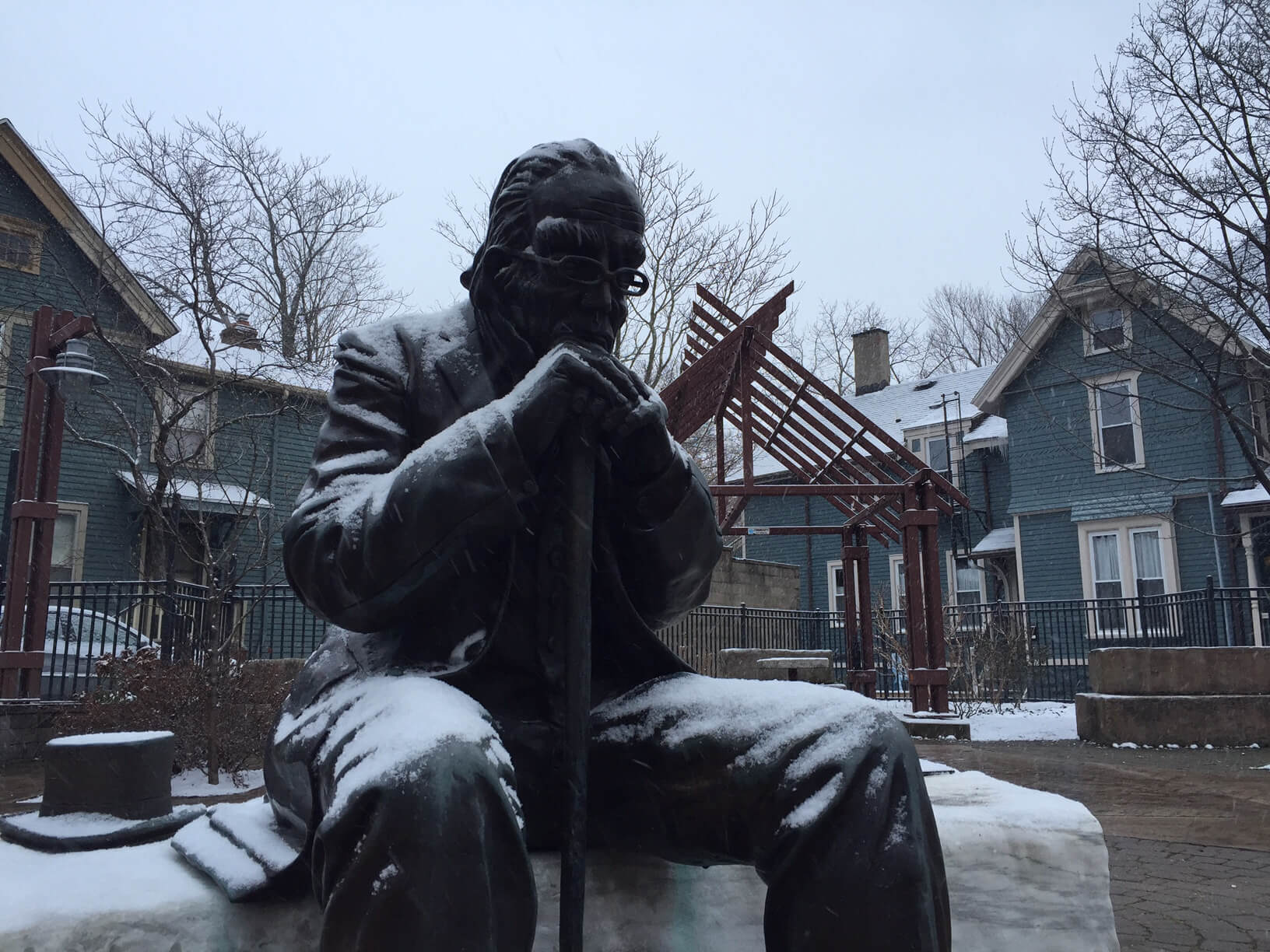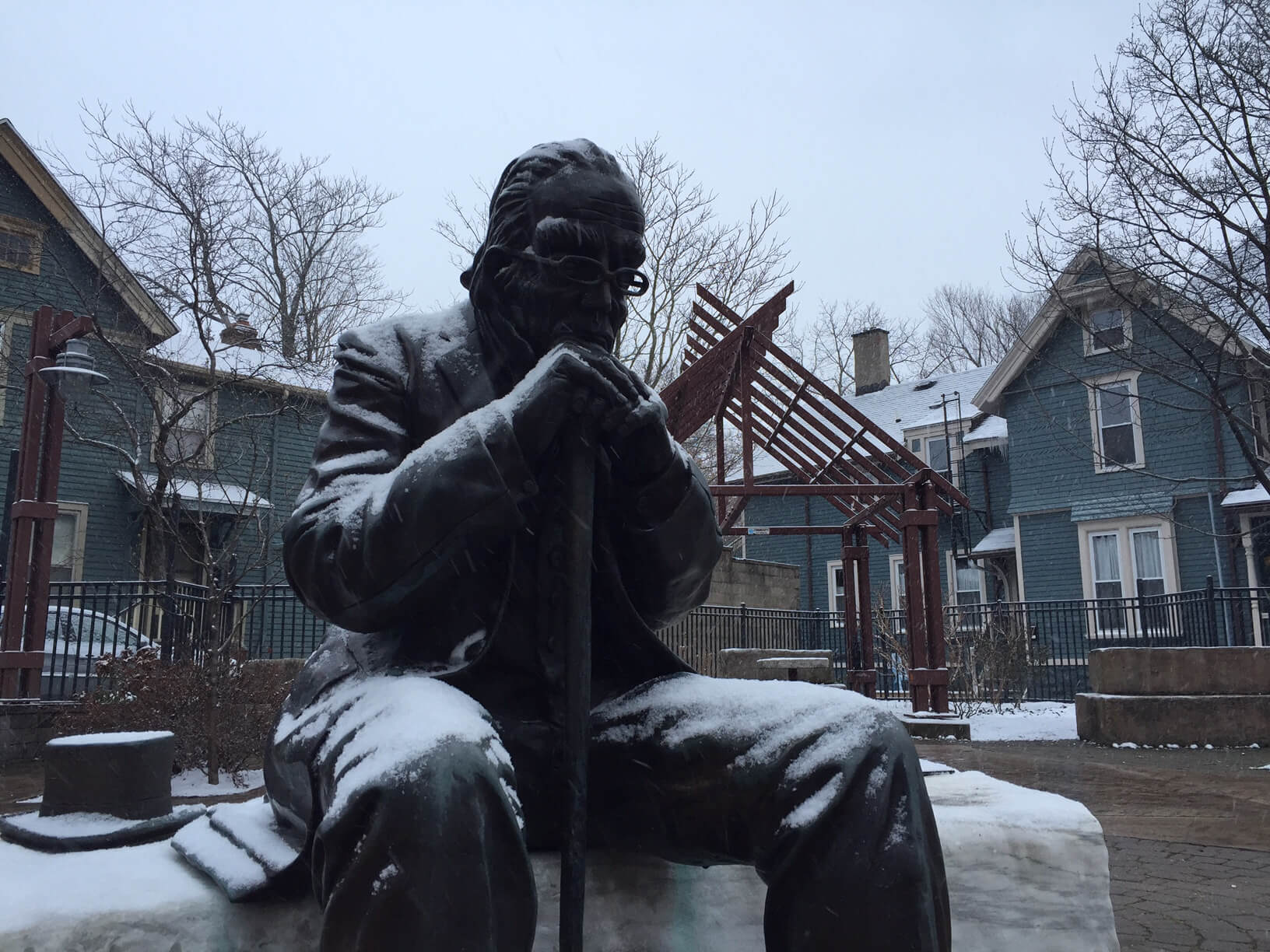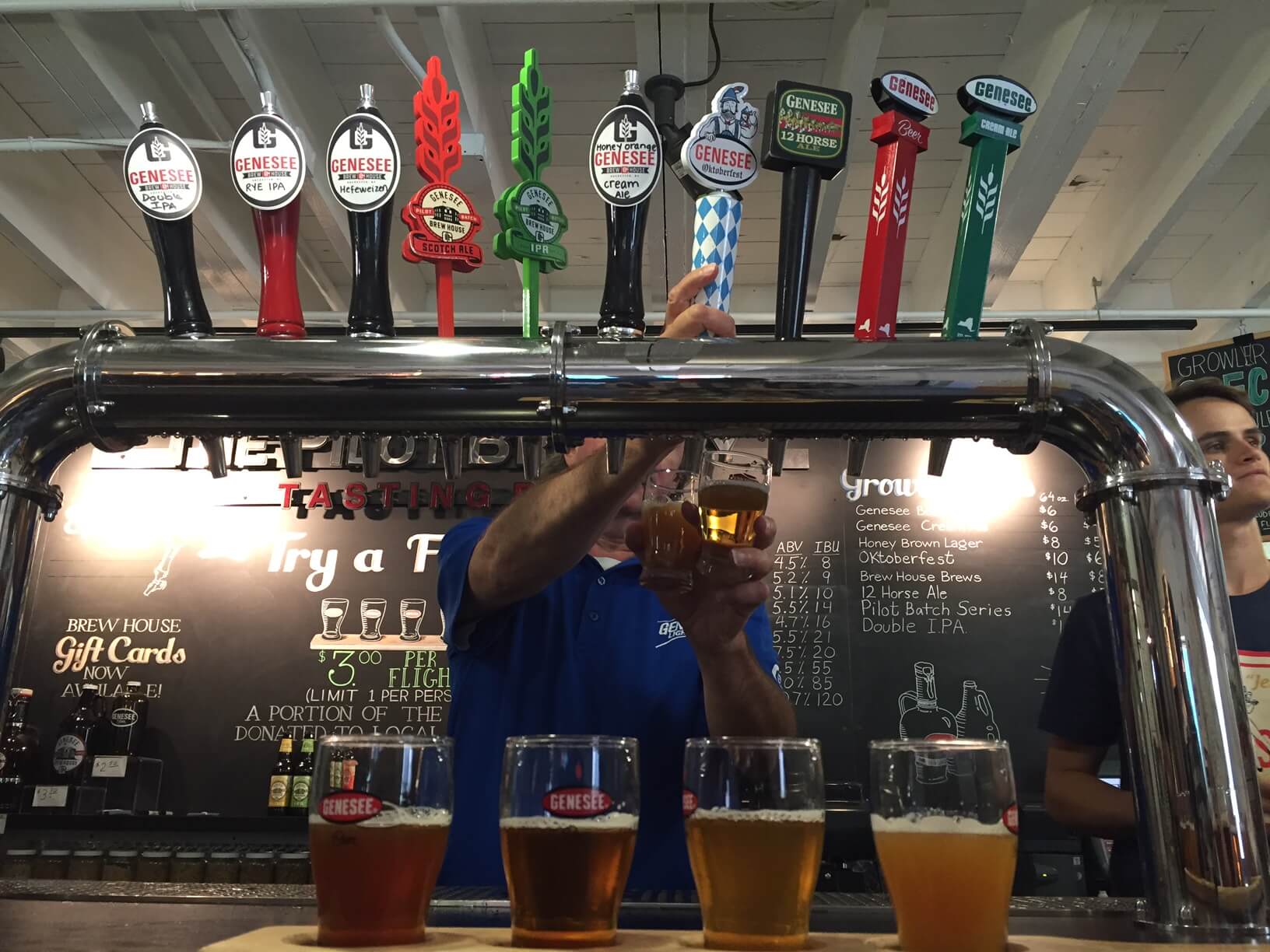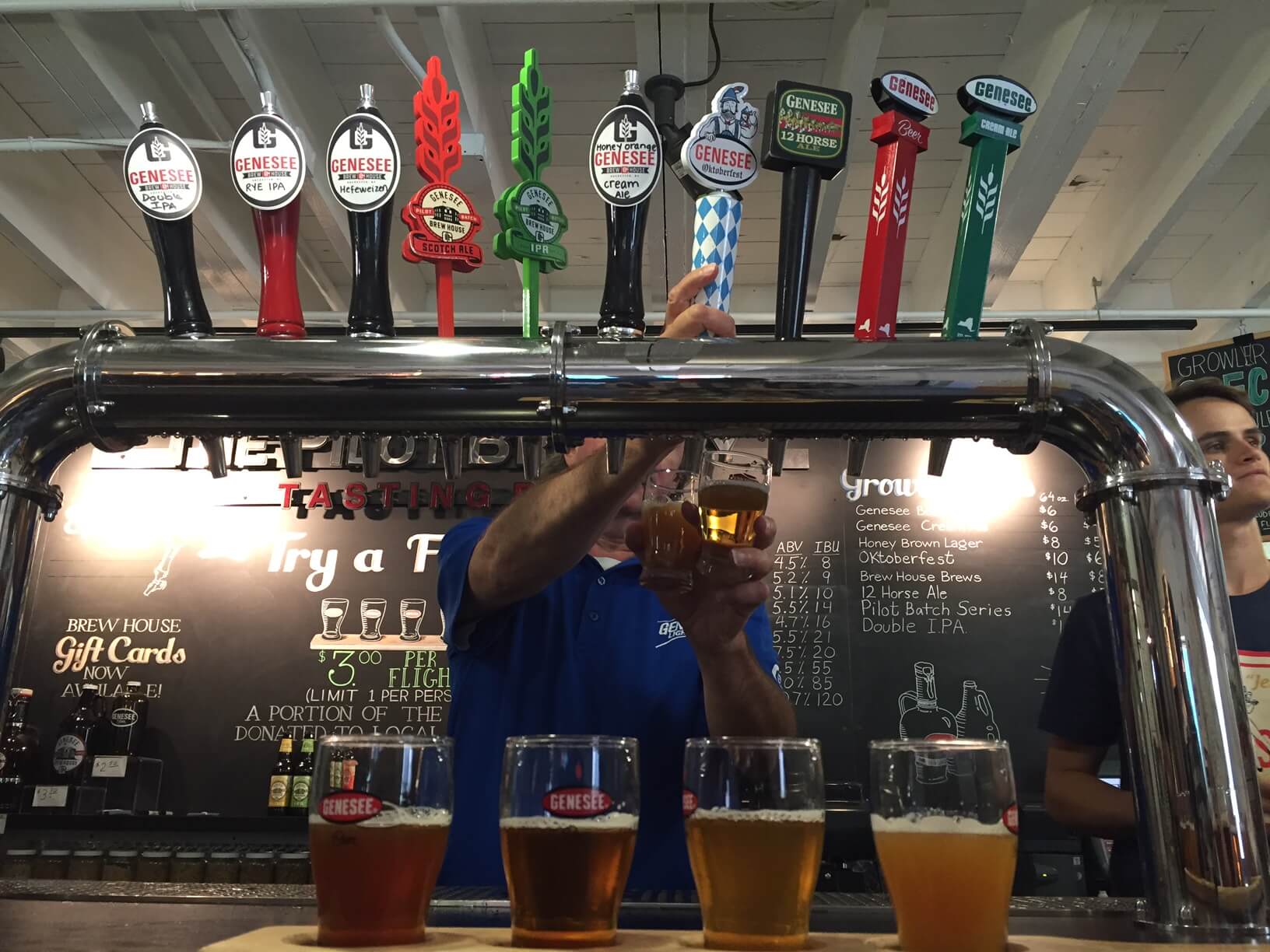 What is your personal coping mechanism for cold/gray weather?
The Little is a good antidote for the unforgiving gray and coldness. For example, dessert at The Little, or a warm sandwich at Harry G's, or soup at Wegmans—so basically, food. Food is the answer.
It's also important to motivate yourself to get out and check things out. Even when it's cold and gray, there are still lots of things to do. Winter also happens to coincide with "awards season" for movies, so it's perfect for Little visits. Our popcorn makes for a great cuddle buddy.
What's your favorite Rochester memory?
The aforementioned Team Awesome Day! The first one we did was back in November 2015. We started the day with eggs benedict and mimosas at Frog Pond, and then did some day drinking at Half Pint. It was the first time I tired Genesee's salted caramel chocolate porter. It was glorious – one of those drinks that made me exclaim "this is great" after nearly every sip.
Next, we checked out the frog exhibit at the Museum and Science Center. Our friends got sick of us snapping frog pics to them, but I regret nothing. It was such a blast to just check out every corner of the museum, while being total goofnuggets. Bonus points because it made me feel super smart too.
After that, we wandered through the George Eastman Museum gardens and ended the day with dinner and drinks at Orbs.
What makes Rochester unique?
The people! There are just lots of cool people here with so much passion for improving our city. I think a lot of people move away, think of it fondly, and then come back, so we wind up with a really loyal and innovative community.
What do you think could be improved?
Public transportation, for sure. I'm a fan of not having to drive, especially in the winter. But many parts of our city are not super walkable or bike friendly. It would be great to reduce the amount of cars on the road. Reconnect Rochester is doing good work on that front, including several events at The Little.
If Rochester were a movie, what would it be?
I've given this a lot of thought, probably way too much thought. Ready? It would be…Moonrise Kingdom. It has to be an indie movie, and it has to be a Wes Anderson movie, because his films always crush it at The Little. Moonrise Kingdom has a whimsical, romantic nature that's fun, charming and reminds me of Rochester. Plus, it's an underrated Wes Anderson movie, and probably not the first film people think of when they hear his name. Rochester is similarly underrated. Plus it has Bill Murray. This doesn't have anything to do with Rochester – Bill Murray is just awesome.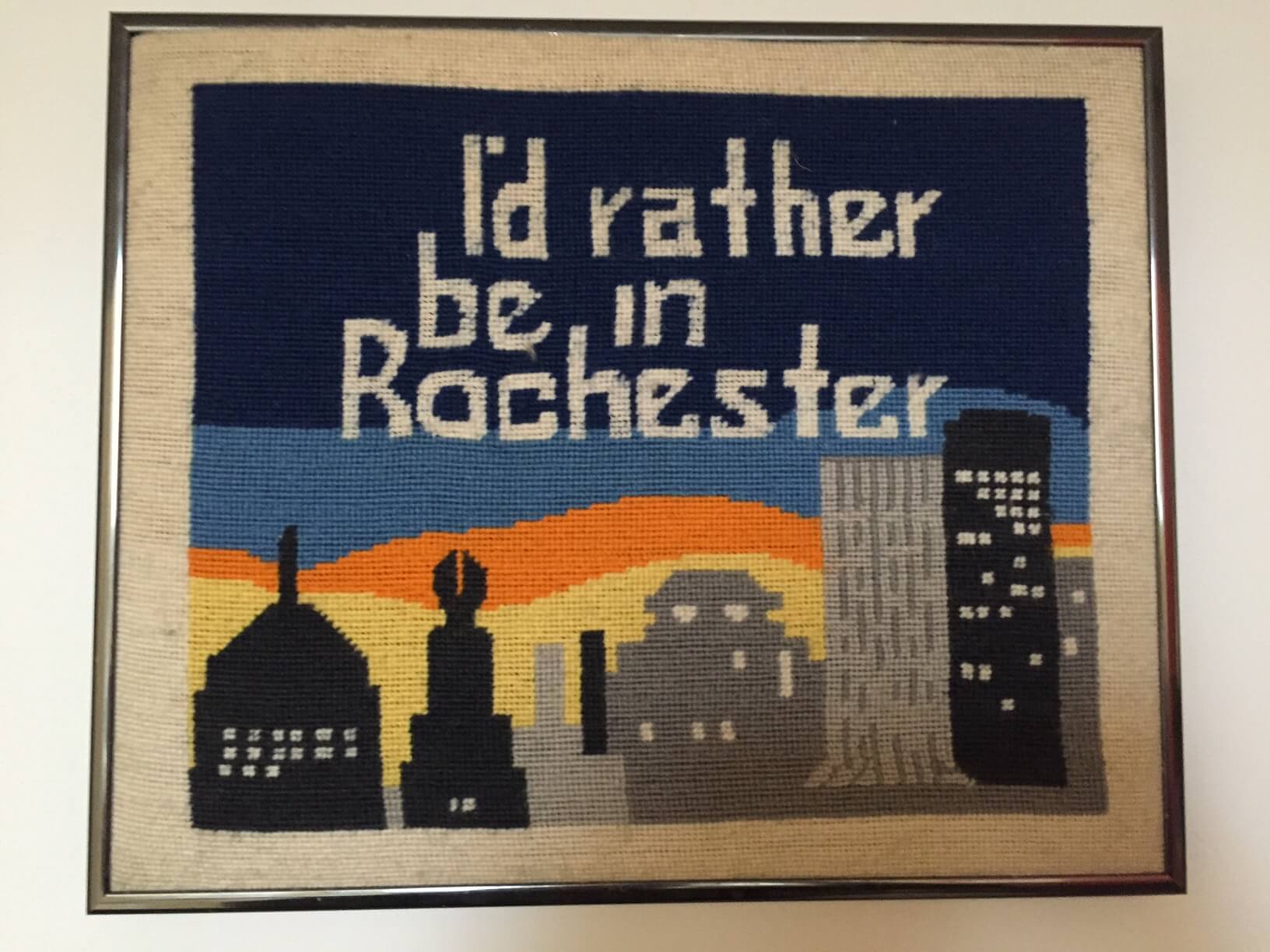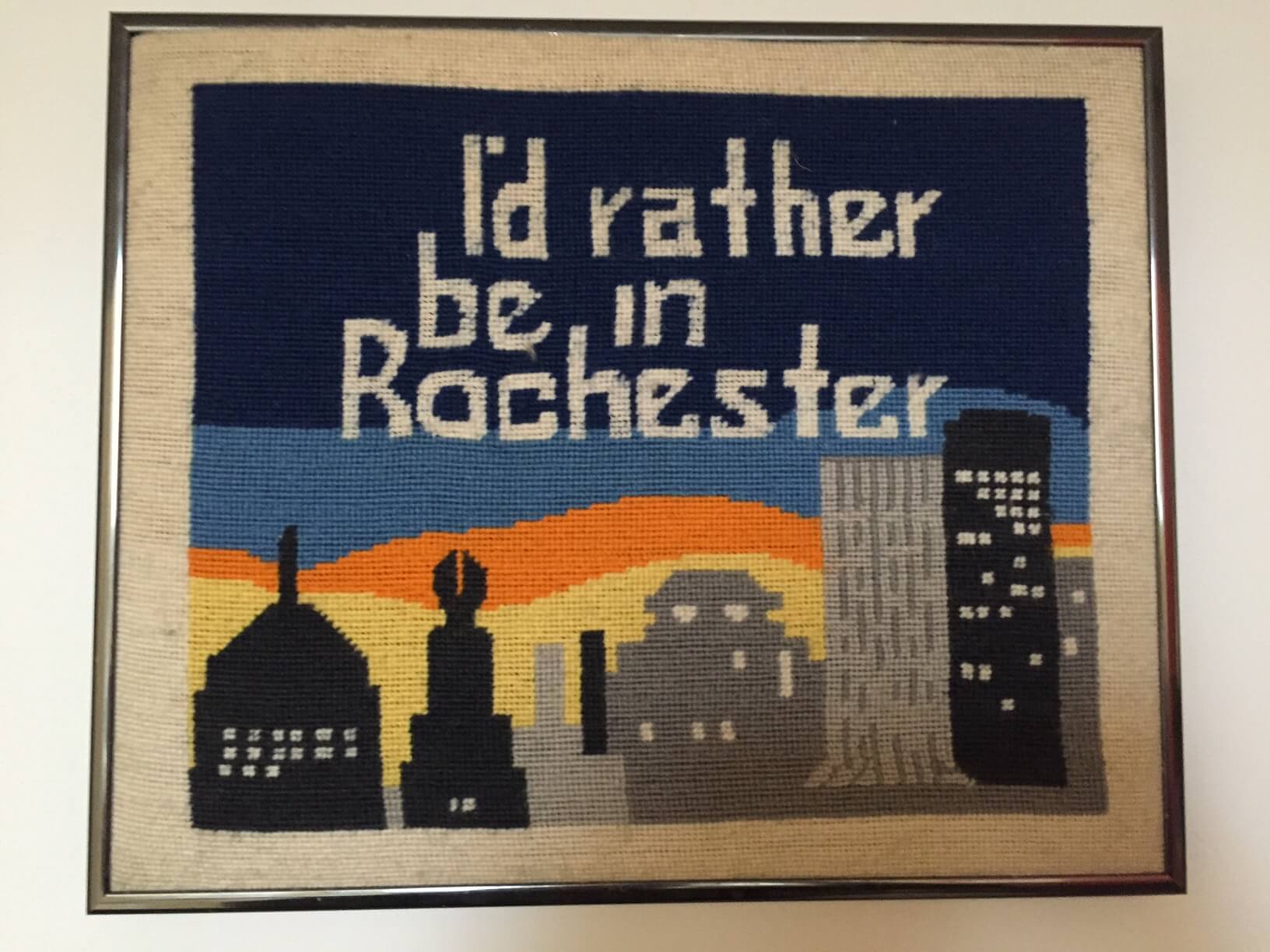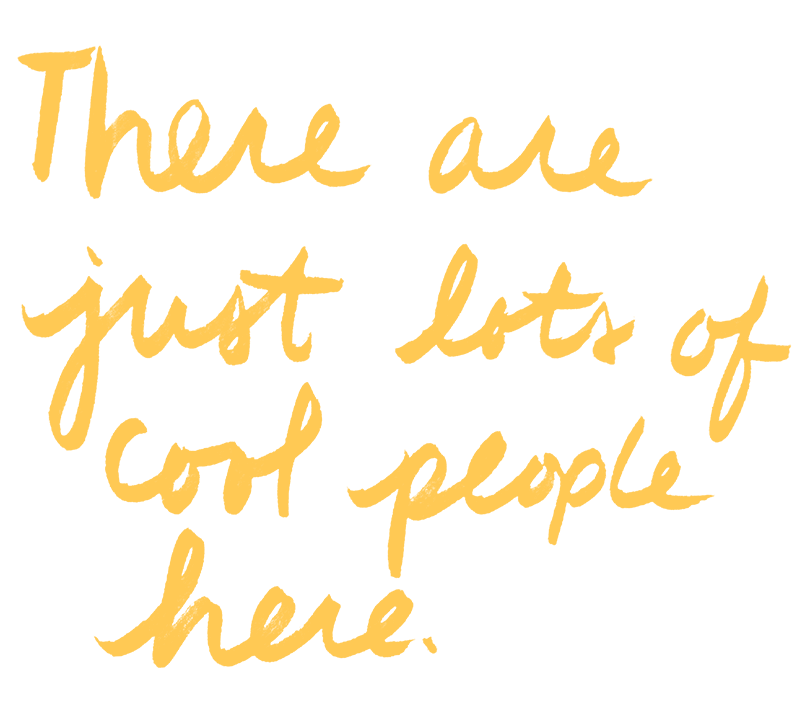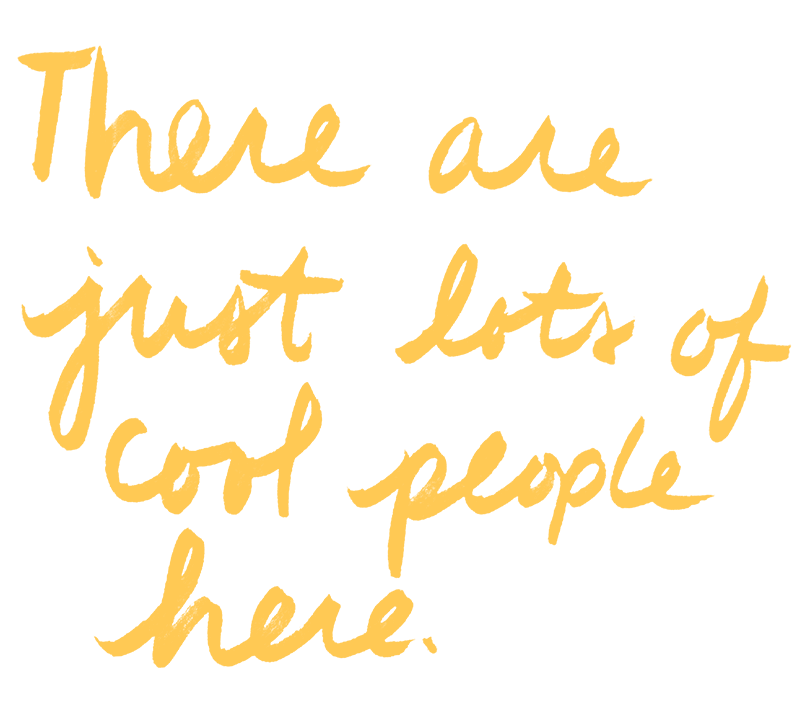 What's it like working at everyone's favorite movie theatre?
It's as fun as you would think! I eat popcorn all the time. I come home smelling like it, it's wonderful. I get to work with a really awesome staff too. I'm also lucky that I get to be creative and innovative every day. I host a Little Podcast "Movies and a Microphone", and it's so much fun. I've done a few live podcasts in the theater, and I get to come up with other fun events as well.
Aside from that, I love getting to tell stories as part of my job. I have a section on our blog called "Humans of The Little." Everyone is seemingly doing "Humans of" stuff these days, but the concept works so well for our theater -- there are so many cool members, workers, and more at The Little. One more thing you should know is that our popcorn machine in the back theaters is the best. She was named Dorothy by one of my coworkers, Emily, because it looks like Dorothy, the cool weather device from Twister. The name just stuck. If you didn't know already, it's also worth noting that there are flavor powders you can add to your Little Popcorn, like white cheddar and cinnamon sugar. I dump embarrassing amounts on my popcorn.
One of the challenges is coming up with incentive for people to leave their comfy living rooms, and watch a movie here or catch a great Rochester band in the café. We have a limited budget as a nonprofit, so that can be tough. But it just means we have to be creative to get the word out about all the cool stuff that we're doing.
Are there any exciting events coming up at The Little that our readers should know about?
There are so many! I'll mention a handful here:
Black Cinema Series (February 10th) – I Am Not Your Negro will be screening at 6:30pm, followed by a discussion. We are teaming up with the Rochester Association of Black Journalists (RABJ) for this series. The movie is playing throughout February, but this screening kicks off our new monthly Black Cinema Series and features a discussion after the film.
Sushi Night at The Little (February 17th) – Sushi from Bubble Fusion starting at 5:30pm, and film starting at 7:00pm. We'll be showing The Lure, a Polish mermaid horror musical, very loosely based on Hans Christian Anderson's The Little Mermaid. It's super weird and cool, and I can promise you it won't be playing anywhere else in ROC! We had a sushi night last April (also with our neighbors at Bubble Fusion) when we screened The Mermaid, so it's kind of becoming a tradition here.
Saturday Night Rewind (Feb. 25th and March 18th) – One of my favorite series is our monthly 35mm screenings with Fright-Rags. Starting at 9:30pm, we'll be screening My Bloody Valentine Feb. 25 and Batman (the 1989 Michael Keaton/Jack Nicholson one) March 18. Our Saturday Night Rewind series always attracts an amazing crowd, and the atmosphere is super fun!
One Take Film Festival (May 18th-21st) – This is the first time in years that The Little is putting on its own festival! It follows our monthly One Take Doc series, curated by Linda Moroney. Like the series, the festival will feature documentaries that are entertaining, educational, smart, and clever.
Turntable Tuesdays – Coming soon to The Little! Keep an eye on social media to hear when you can start bringing your vinyl to The Little Café to be played. I also want to note that we have live music (no cover) five nights a week, and beer, wine, dinner, desserts, along with board games every night in the café. I'm obviously biased, but it truly is a great date spot, and a top-notch evening hangout.