On a Saturday at One World Goods
Where are you originally from? How long have you been in the Rochester area?
Rob Hazen, Store Manager: I'm Rochester born and bred. I've always lived in the city, for 42 years now.
Karin Marlett Choi, Assistant Manager: I'm from St. Louis, Missouri, but I moved to Rochester when I was four years old.
What is your favorite part of living in Rochester?
Rob: All my family is here, so that's a big part of it. I also like Rochester for its size—you have culture and an urban feel, even though it's still a small enough city that you recognize people when you're out and about.
Karin: The weather and the location are great. I'm an eastern girl, so it works for me. I live in Irondequoit and love being near the water—the bay, the lake, the river. I like our city too; it's not too big, and you can get just about anywhere in 20 minutes.
What would you say makes Rochester unique?
Rob: We've got all four seasons, so that's a positive. We're great in the summer, especially when you can get out to the Finger Lakes, and we're great in the winter, when you can enjoy winter activities.
Karin: Our history is interesting, and we're a creative community. It's a pretty artsy place. I actually teach some paper arts classes at Flower City Arts Center, which is a great mainstay of the community.
How would you describe One World Goods to someone who's never heard of it?
Rob: I often describe this place as a whole store without things in boxes. We've got a lot of great products here. All the goods we sell are handmade and they come from over 40 different countries. The cool thing is that all people who make these products were paid fairly and worked in safe conditions—it's all fair trade.
Karin: Nothing here is mass-produced. Fair trade helps give people a fair wage and use their skills to sell goods to consumers in the U.S. It also helps to maintain different cultures' artistic traditions, which is an added bonus.
How long have you been involved with One World Goods?
Rob: I started volunteering in 2005, and was hired in 2006. I'm now the Store Manager and have been in that role since 2013.
Ruth Morton, volunteer: I've been involved since 1989 or so. Back in those days, we were using carbon paper for receipts and doing the math for sales tax in our heads. We had to order all our products by mail from a catalog or over the phone.
Sushma Rajgarhia, Assistant Manager: I've been involved as a volunteer since 2003, and have been an Assistant Manager sine 2008.
Karin: I've been involved for 23 years! Way back in 1994, I saw this newspaper article about a little shop in Fairport, and I said, "Mom, you have to take me over there!" I signed up to volunteer that very day.
How did One World Goods get started?
Ruth: Three Presbyterian women founded one World Goods in 1987. They received a grant from the Presbytery and purchased $5,000 worth of inventory. They brought the goods around to craft sales in laundry baskets for about two years. After much success, they decided they needed a physical space to store their inventory. For awhile, they stored their products downtown, and later moved it to someone's home in Pittsford. Finally, they realized they could be doing much more business if they had their own storefront, so they opened up a shop at Village Landing in Fairport. The store moved to Pittsford in 1997, where there's been much more foot traffic.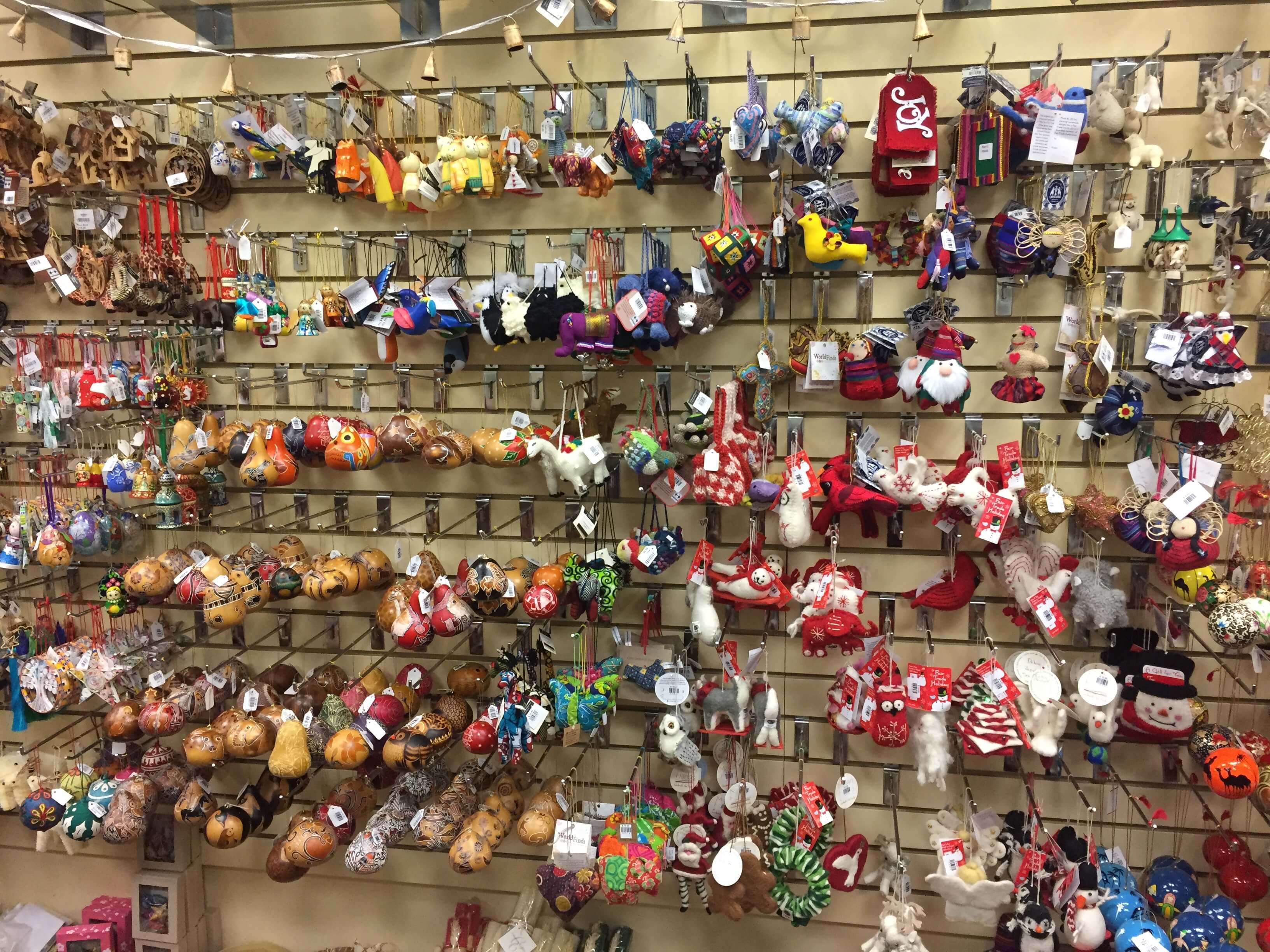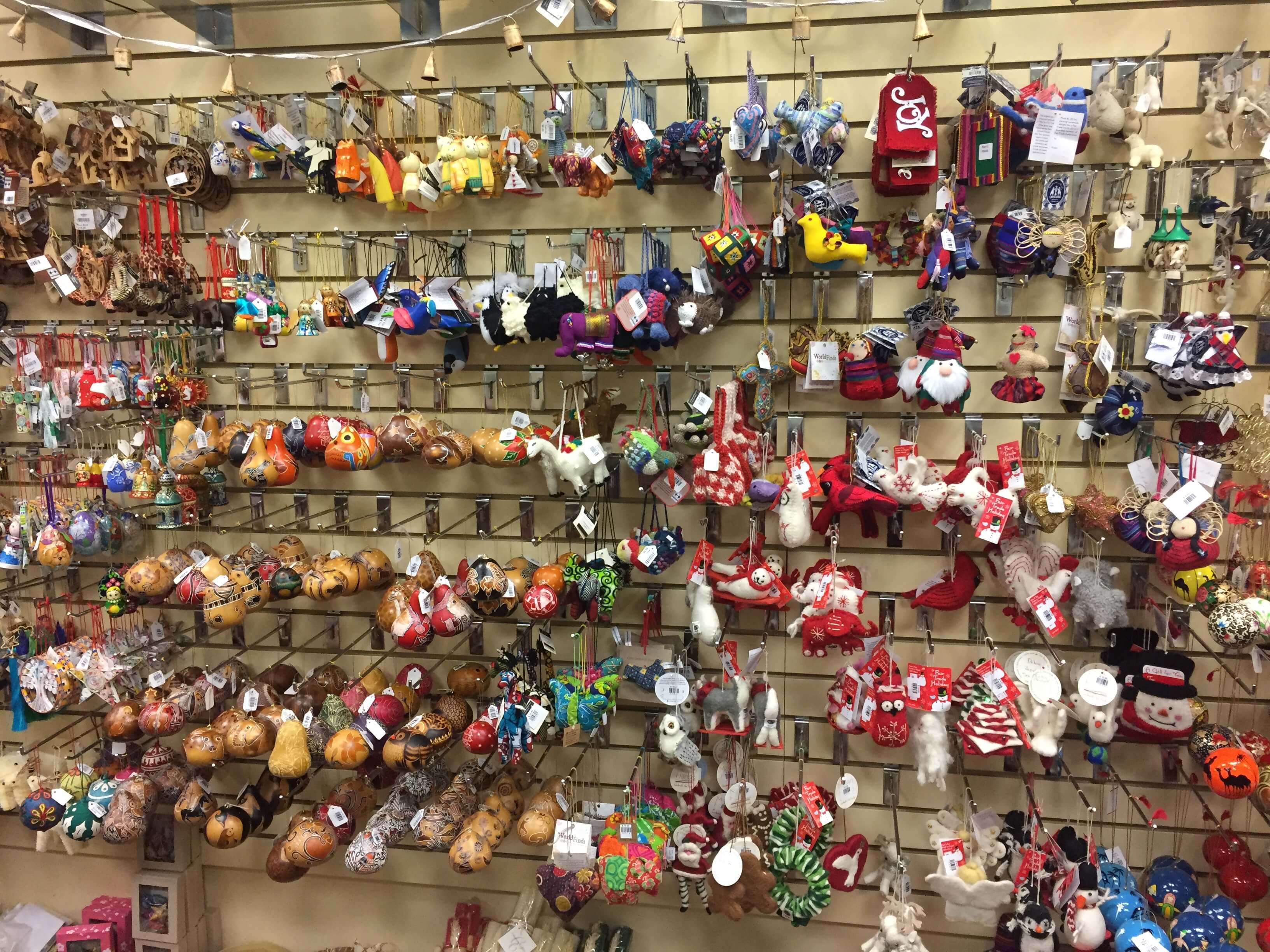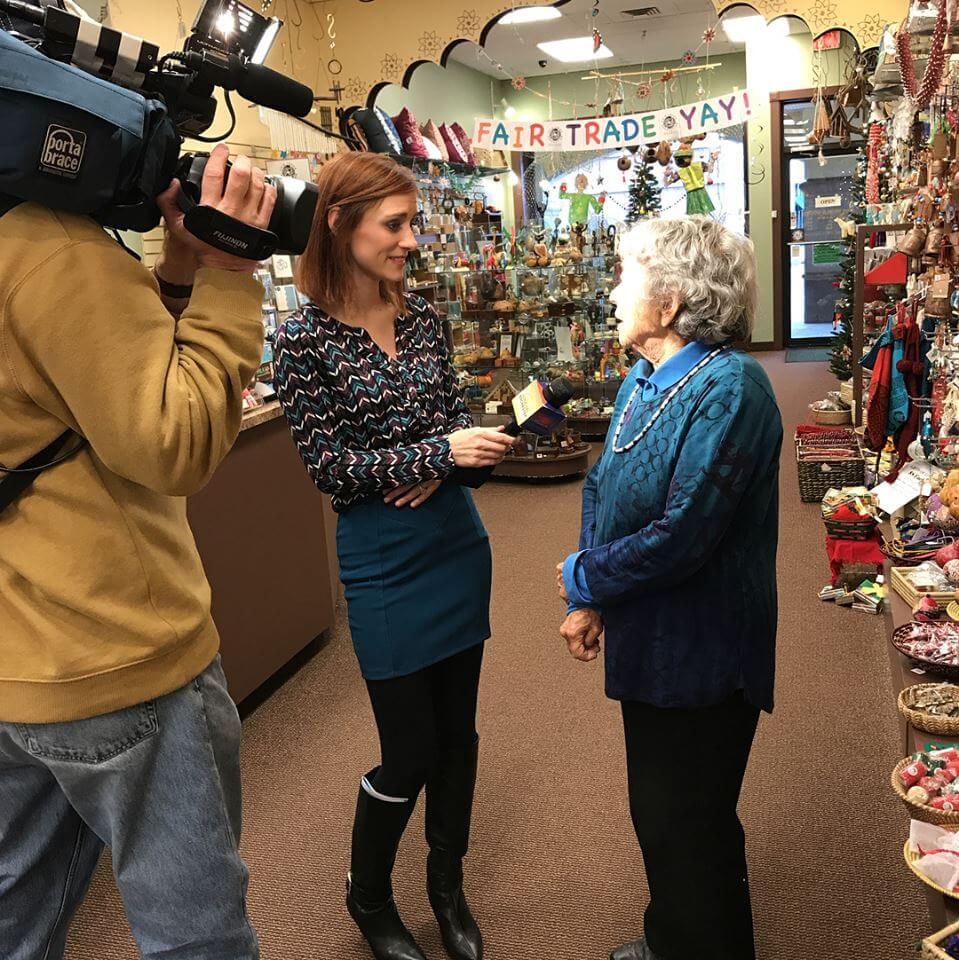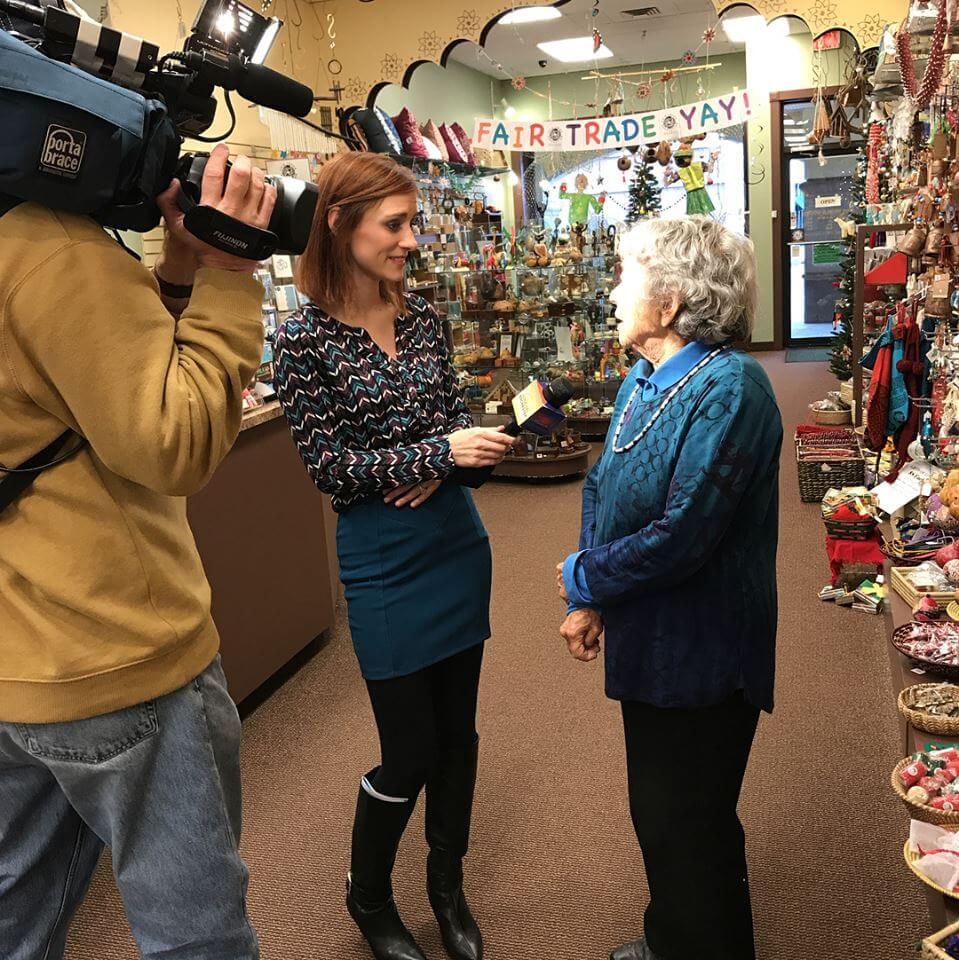 Where does the name One World Goods come from?
Rob: The whole idea is about unifying the world through fair trading. Goods is actually an acronym—it stands for Global Opportunities Organized for Dignity and Self-worth.
What's it like to volunteer at One World Goods?
Sushma: There's so much to learn and so much to do! You work alongside great people. We would be incomplete without our volunteers. We have about 70 volunteers helping out at the store on a regular basis. Every day is special here.
Karin: I've been a part of this store for so long that I just keep coming back; I can't get it out of my system. It feels like home to me—I love it here.
What are some of your favorite items that One World Goods sells?
Rob: We have fused glass from Ecuador that's pretty cool—they put an image inside two layers of recycled glass. We call it wavy glass around here. The first time I ordered it, I asked for holiday designs, nativity scenes, and 100 random designs. We wound up with fighter planes, lighthouses, snowboarders, and skiers, and all of them sold!
Ruth: I love the olive oil and vinegars a lot, and the chocolate.
Sushma: The finger puppets! They're adorable—they're handmade by women in Peru. I also love the arpilleras; they're also made by women in Peru, and they're so beautiful.
Karin: The first thing I ever owned from One World Goods was this lacquered goldfish rock from Vietnam. That one was a bestseller for years! I also had this jute ring that I got at the 10,000 Villages flagship store in Lancaster, Pennsylvania while visiting my grandparents. I lost it but was able to buy a new one at One World Goods!
What are some of your best-selling items?
Rob: We have these scarves made out of recycled saris that are extremely popular. Some of them are regular scarves and some are infinity scarves, and there's a ton of variety when it comes to prints. In fact, we rarely have multiples of the same pattern! We also sell a lot of semi-precious stone earrings from Nepal.
We've seen a lot of growth with essential oils, incense, quilled cards, Buddha statues, and prayer flags lately—those usually attract a younger crowd. Our ornament display is always hugely popular, too. That goes up in October, and it's nearly 30 feet of display space all covered in ornaments!
Hats, gloves, and socks have all sold really well. Our food items, like coffee, chocolate, and olive oil are also popular.
We carry local products for social good as well. For example, we have a line of soups by Healthy Sisters' Bean Works, administered by the Catholic Family Center, that's staffed by women in recovery. We also sell cards from the Mary Cariola Center, and ornaments in partnership with St. Louis Church in Pittsford, which benefit a children's hospital in Haiti.
Karin: People love trivets. We sell a lot of trivets. I don't know what people do with all those trivets! They're really unique, though.
What is your favorite memory of One World Goods?
Rob: In 2007, we remodeled the store, and that was a great bonding experience for everyone. We had staff and volunteers helping out with things like painting, and it was just a lot of fun.
Ruth: I've been working here every Friday for decades. I love the people!
Sushma: It's the everyday experiences. Every time you ring something up, you get the instant satisfaction of knowing you helped someone.
Karin: I was always the youngest, so for many years I've been tasked with things like jumping up and down on our empty boxes to pack them down so we could fit them all into the recycling dumpster. One time, our boxes were packed so high and deep that we had almost 70 stacked up in our backroom. You had to squeeze in between them all sideways!
What's the best part of running a business in the Rochester area?
Rob: We have a great core of customers here; there's a good social justice community in Rochester. Our products are great and the reason to shop here is important. That means we bring in a lot of good people.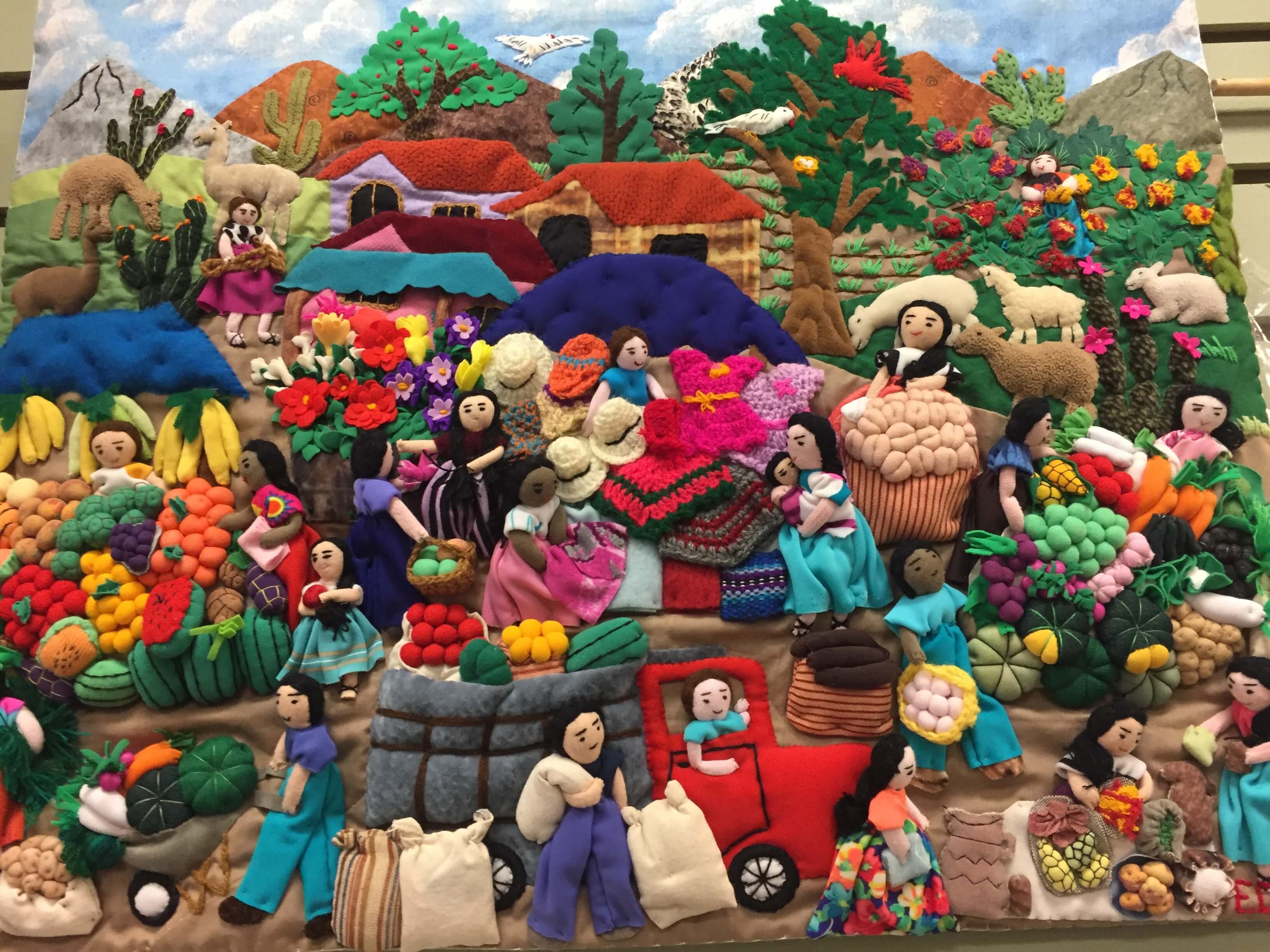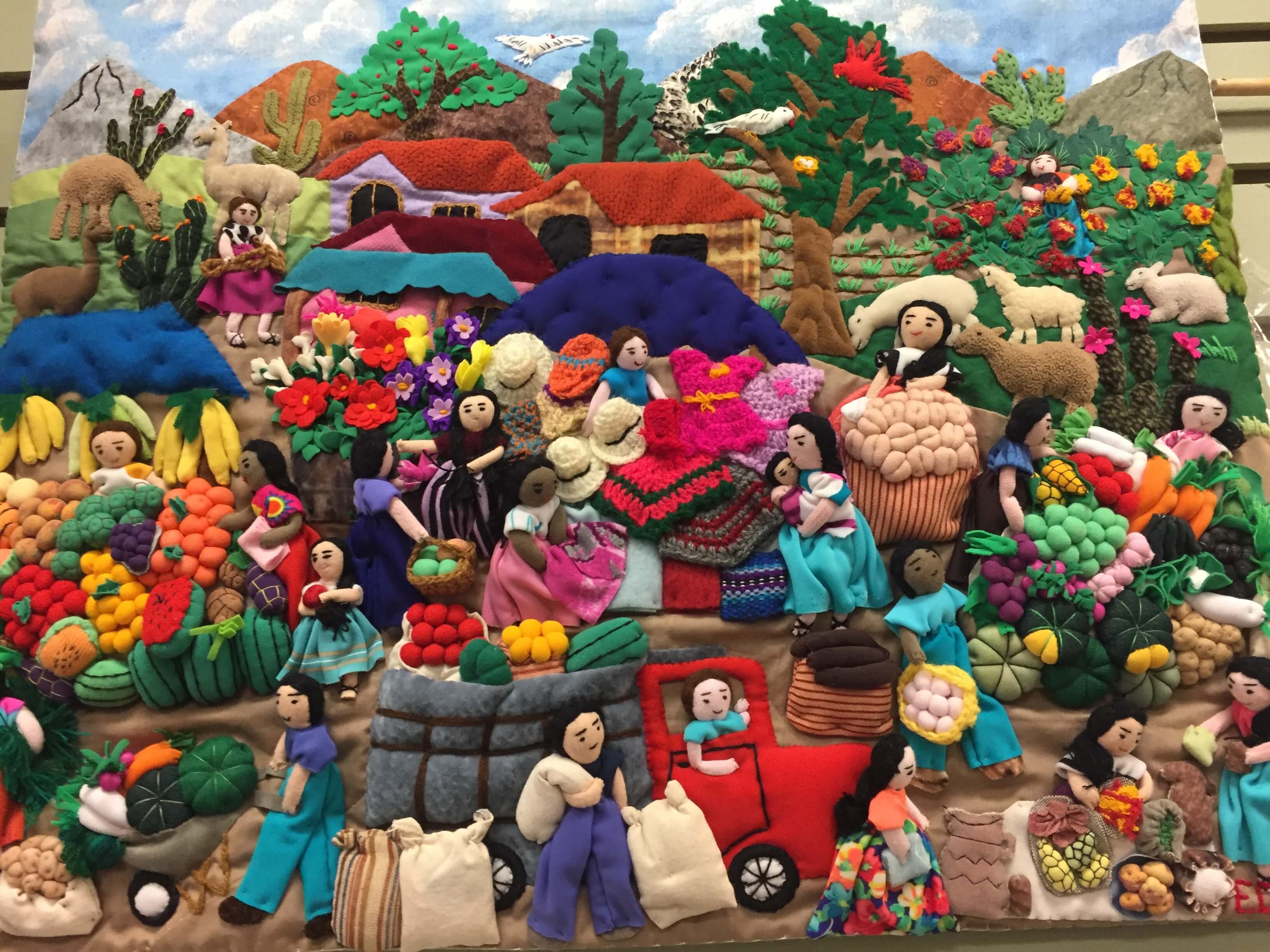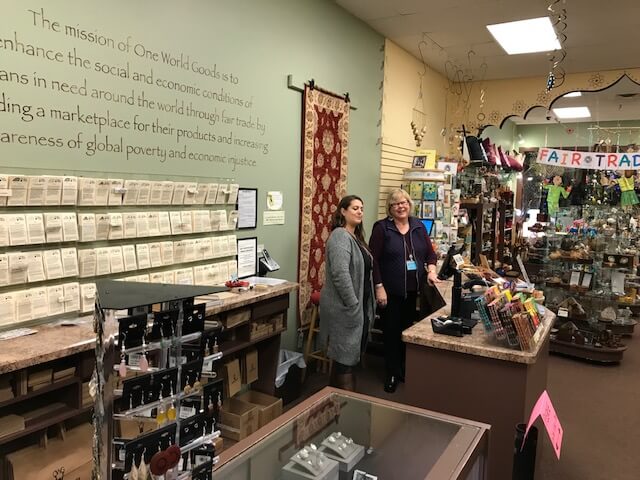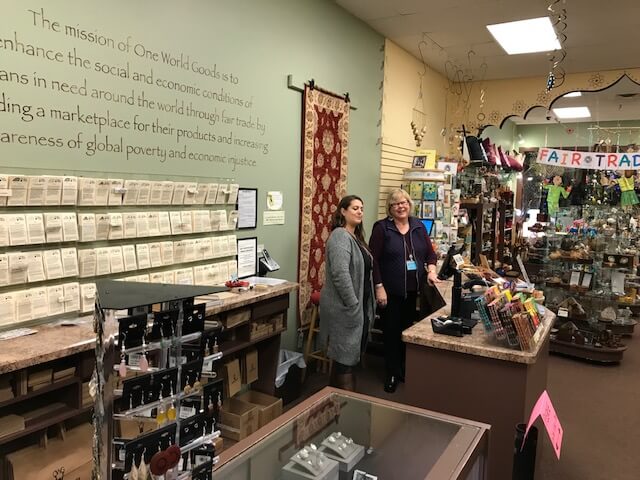 What are some of the challenges you face?
Rob: Rochester is a pretty stable place to be, and we have a good location and a solid customer base, so we're lucky. There are some interesting challenges we're faced with right now, though. For example, the growth of online sales have made it hard for us as a retailer. Additionally, stores like Target and Walmart are selling some fair trade products, so it's unclear yet what the impact will be on smaller stores like us.
What have you learned from running a business in Rochester over the years?
Rob: Our products stand on their own as a good value, with our fair trade mission adding value. Fair trade is not charity; it is simply treating the producers of the goods with the dignity and fairness they deserve. So, while we seek to educate our customers about fair trade and economic injustice, we lead with the thoughtful, high quality items that result from fair wages and a safe and inviting working environment.
What are your hopes for the future of One World Goods?
Rob: The fair trade industry as a whole is moving more towards fashion and design, so it will be interesting to see that play out at One World Goods. There are even celebrities carrying fair trade purses and wearing fair trade fashion. It'll be cool to see how higher-end fashion can be integrated into our store.
One World Goods is a fair trade store celebrating over 30 years of business in Rochester. For more of One World Goods, visit their store in Pittsford Plaza or check out their website.
This interview is sponsored in part by One World Goods.